Chiropractor James Harrison at the Super Self Summit June 2018
Chiropractor James Harrison at Connective Chiropractic speaks at Super Self Summit June 2018
James, our award-winning Chiropractor was honoured to be invited to speak at the Super Self Summit this June 2018. Following positive reviews from his last talk at the Super Self Summit in February, he decided to talk about something a bit different. 
Speaking at the Super Self Summit
Instead of talking about his story and focussing in on what makes us happy, healthy and well, this time he spoke about what it means to be strong or resilient in times of transformation, change or, indeed, circumstances that have the potential to over bowl or overpower us. As part of the talk, James asked attendees to focus on and free themselves from a challenge that they wanted transformation from and gave examples of how to move outside a position of comfort in a way that doesn't lead to panic. The talk discussed about what it means to work within and outside of your comfort zone. It also gave 7 tips on how to stretch your comfort zone. These tips included biopsychosocial methods including gaining an overview of limitations and indeed psychology.
A personal transformation story by Chiropractor James Harrison
In discussing a personal transformation event of his own, James explained the positive role that chaos can have on our lives. All we need to do is to change our mindset. He further explained the wider impacts of chaos in times of transformation or change to our physical, mental and social well being and established just how connected our health can be to our environment. As part of his presentation he referred to health being more than just about being absent from pain or illness. Instead he discussed it about the quality of life and the process of making transformation or change. 
Social transformation
James's talk met to great approval on social media. James says "I'm outstanded that my talk connected with so many. It is always reassuring to know that I can make a real difference to people outside of my Chiropractic clinic. Connective Chiropractic is undoubtedly about making connections. It might sound weird but I honestly feel that the super self summit community is aligned with that of Connective Chiropractic. The people who attend just get it (whatever it is) and its wonderful to be around so many likeminded people. I wouldn't be able to talk about such personal transformational events in any other environment."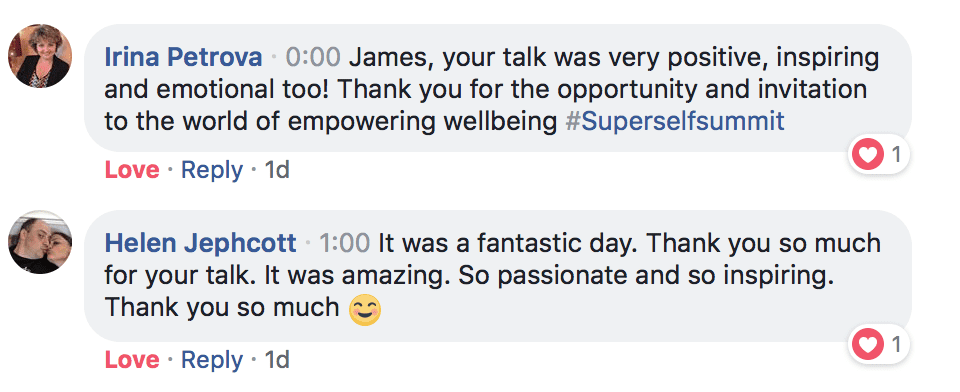 About the Super Self Summit
The super self summit is a world class event. Two events have been hosted in 2018 in Basingstoke. However, the Super Self Summit is surely set to grow as founder and master-mind Tommy Gentleman smashes beyond all expectations in producing a regular weekend that is not only relevant but both profound and useful both to individuals and society. James says "I'm super happy that i've been involved with the Super Self Summit from the start and will continue to support it, no matter whether I am on the speaking list or not. Tommy's vision is pure, intentional and is bound to make a huge shift in our community and peoples lives too. If you haven't been yet, you need to grab a ticket when this fantastic event return.
The Super Self Summit is set to return this November 10-11. Over the 2-Days of the Super Self Summit you will learn the best and most effective ways to improve exercise, nutrition, motivation, mindset, confidence and self belief.
Competition for Empowering Wellbeing Community Members
The Super Self Summit is set to return this November 10th and 11th. After the success of doing so this time, we have already booked a ticket for a member of our Empowering Wellbeing Community to win. Connective Chiropractic Chiropractor James Harrison shall also be attendance.
June Speakers
James was honoured to be the first speaker booked for June's Super Self Summit after his reviews from speaking earlier in February. He rejoined founder Tommy Gentleman and Darren Toms with a line up of new facts. These included Calum Best, Ben Coomber, Mel Wells, Siobhan Booth, Gareth Riddy and Terry Anderson and, of course, Connective Chiropractic Chiropractor James Harrison. That said, it was the delegates and the supportive collective environment that upgraded the event from a great event to something much more world-class.
BASINGSTOKE
Connective Chiropractic Ltd,
55 Kingsclere Road,
Basingstoke.
RG21 6XG

EMPOWERING WELLBEING WITH A CONNECTIVE CHIROPRACTIC MEMBERSHIP
Registered Company (10788728) in England & Wales, Registered Address: 55 Kingsclere Road, Basingstoke, Hampshire. RG21 6XG.

Site content last edited 11 September 2023 (Version 1.4) (Version 1.0 - 1st November 2017). Last update Monday 11 September 2023
Copyright: Connective Chiropractic Ltd. All rights reserved. The Connective Chiropractic name and Connective Chiropractic logo are registered trademarks.