Chiropractor Cost
Please be aware that our Chiropractor Costs have recently changed
Pay As You Go
We charge £55 per session. This includes any additional costs required for your course of care, including all reassessments. We do not charge by time, but we expect our appointments to take around 30 minutes. We offer extended sessions as standard.
Our on-boarding session is charged at £55 and is intended for new customers to register with our clinic.
We expect this to take around 40 minutes and does not include an initial treatment session. 
Booking a first treatment session at the same time as an on boarding session attracts a £20 discount (£95).
We expect this session to take around an hour.
Please be sure to book the right session when booking to ensure this discount is automatically applied.
Prepayment Plans
We offer the ability to prepay for your entire care plan at a preferential prices. Please contact us for more details.
We offer all patients the ability to prepay for 6 treatment sessions sessions for £200 until October 1st 2018.
Wellbeing Membership Packages
Our membership packages offer the best long term deals for those wishing to visit us regular or extend their care with us.
Please contact us for more details
Click here to book your appointment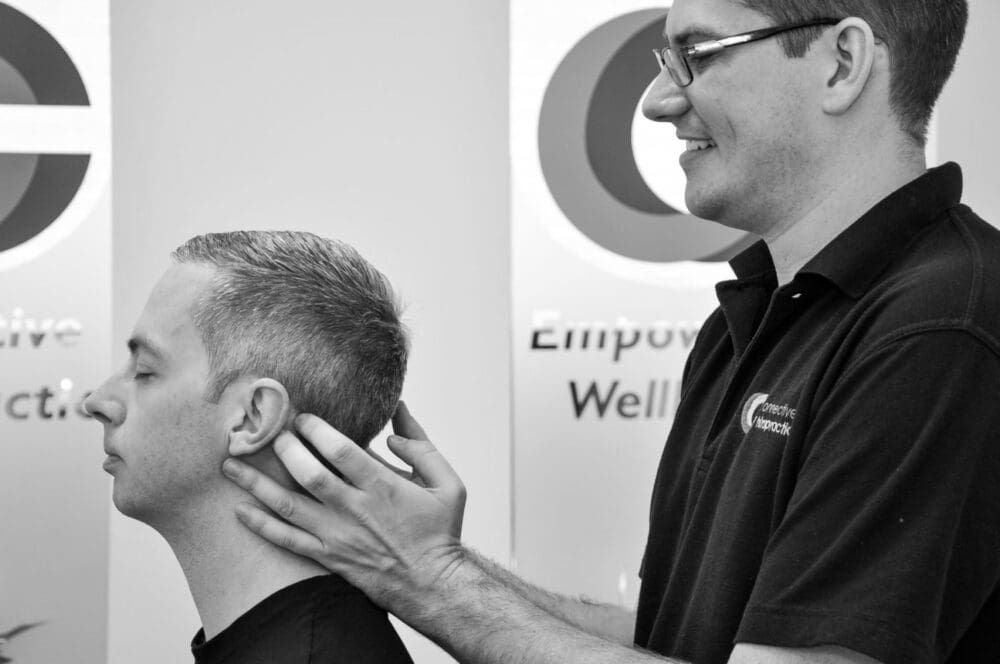 Initial Consultation and Assessment
Onboarding with our clinic

Assessment, Consultation, Testing, Report of findings included

Includes referral letters, where required, but does not include first treatment
Treatment Session / Check
Includes all treatments, reassessments and workshops required as part of your Chiropractic care plan

Session of up to 30 minutes duration, depending on what you need
Initial Consultation, Assessment and Treatment OFFER
A £20 discount is applied to the cost of an on boarding initial consultation and treatment session when booked together.

Usually costs £110 when not booked together. 
*Our fees includes checks where adjustments are deemed not necessary and all reassessments.
We do not charge extra if you require additional time with us or if we need to use additional in-house services as part of your care plan.
Cancellation
Once you book an appointment you will receive a confirmation email regarding your booking. Your appointment will not class as booked until you receive confirmation. Please contact us if you are unsure. You are able to cancel or rearrange your appointment up to 24 hours in advance using the link on the email. To cancel an appointment within 24 hours please contact us.
We reserve the right to charge a cancellation fee of £40 for repeat cancellations or cancellations made without notice.
Payments
We are able to accept payments by cash or card. Payments shall be made to the Chiropractor at the end of each Chiropractic session unless otherwise agreed. We are currently able to take MasterCard, Maestro, isa, Discover, Diners Club International, Union Pay, JCB, American Express, Apple Pay and Android Pay.
We also accept payments online via invoice or bank transfer on arrangement.
Payments for Connective Chiropractic Membership Schemes are payable by Direct Debit only.
Insurance Policies
We are currently registered with several insurance companies including Simply Health, Aviva, Cigna, Vitality, Allianz and AXA. It is best to check with your insurance company before you commence Chiropractic care with us if you wish to make a claim from your insurance provider.
We reserve the right to charge a cancellation fee of £40 for repeat cancellations or cancellations made without notice.
We reserve the right to not accept patients paying by Insurance.
Complaints
All Complaints should first be raised with clinic owner, James Harrison, either orally or in writing. Should you experience any difficulties that can not be resolved to your satisfaction at this stage, then you may bring any grievance to the attention of the McTimoney Chiropractic Association (MCA) by calling 01491 829 211. The MCA will be happy to advise you further including your right to contact the General Chiropractic Council.
Emergencies
If in the unlikely event the clinic is unexpectedly closed we will notify patients with appointments directly as well as broadcasting via our website and social media channels.
For Emergencies, please contact us for further advice. We are connected with Chiros Clinic (01264 324924) to provide mutual emergency cover.
Data Protection
We are keen to ensure that all your data is protected and kept confidential. All records and information will be kept with your confidence and security in mind.
We are registered with the Information Commissioner's Office (ICO). Please note that we reserve the right to ask your consent to deal or contact with others on your behalf and may require the presence of a consenting adult in order to care for Children. Should you wish for a copy of your records at any time, please contact us. In line with legislation, we reserve the right to charge an administration fee.
Returning Customers
We find that many of our customers choose to undergo maintenance care following a course of Chiropractic care. However we also continue to welcome those who have decided to previously stop care with us. We reserve the right to ask that the patient undergoes another initial consultation or reassessment should an appointment not be deemed as a continuation of care.
Prepayment Offers
Our prepayment offers are only for current patients who have been deemed suitable for Chiropractic care at Connective Chiropractic. These offers do not include 'initial consultation and first adjustment' sessions. All appointments must take place within 12 months of taking the prepayment plan. Offer is non-transferable and can not be used in conjunction with other offers. Chiropractic adjustments will only be given with a clinical rationale for care. Appointments are subject to availability and can be booked here or by contacting us.
Where prepayment offers are purchased at the same time as an initial consultation and no clinical rationale for Chiropractic care is found, the value of the prepayment plan shall be refunded in line with our refund policy.
Prepayment offers and schemes - Refund Policy
Requests for refunds should be made in writing to james@connectivechiropractic.co.uk. Cancellations and full refunds are available within 28 days of purchase. Refunds after 28 days shall be offered at the discretion of Connective Chiropractic. All refunds will be offered minus the cost of any redeemed Chiropractic session at full, undercounted price. Connective Chiropractic reserves the right to charge an additional £20 administration fee for refunds and cancellations after 28 days.
Rationale for Care Policy
We regularly screen whether Chiropractic is appropriate and whether there is an evidence-informed rationale for giving Chiropractic adjustments. We do this as part of our desire to serve our patients to the best of our abilities and in order to satisfy our regulator's requirements.
At any time, if we think Chiropractic is not in your best interests we will inform you and offer alternative options to Chiropractic care. We might offer you other suitable services or refer you to another health care practitioner. Of course, we will explain our reasoning to you, should we consider a course of care unsuitable.
In these circumstances, we reserve the right to charge for consultation and/or assessment. Please see our refund policies regarding prepayment or membership schemes.
Digital Marketing and Privacy Policy
Please follow the following link for our Digital Marketing and Privacy policy:
Doctor title policy
We occasionally use the honorary title afforded to us by our qualifications (Eg: 'Doctor of Chiropractic' or Dr James Harrison (Chiropractor))
For the sake of clarity, the term 'doctor' does not imply that the Chiropractor named is a medical doctor, unless otherwise specifically stated. We will always strive to put the regulated, legal term ('Chiropractor') following use of the word 'doctor' (or any abbreviation) to reduce confusion and clarify further when using these terms.
For my job I have to train hard and it often leaves me with a lot of aches, pains and generally feeling rubbish. Every time I have been to see you I have felt amazing and ready to take on the next challenge. Jon H, Basingstoke
BASING VIEW
Arena Business Centre,
The Square,
Basing View,
Basingstoke, Hampshire.
RG21 4EB
07833 585501
01256 213 765
EMPOWER WELLBEING WITH A CONNECTIVE CHIROPRACTIC MEMBERSHIP
Registered Company (10788728) in England & Wales, Registered Address: Arena Business Centre, Basing View, Basingstoke, RG21 4EB.
Site information updated 1st November 2017.