What is Chiropractor & what does Chiropractic involve?
WHAT IS A CHIROPRACTOR?
A Chiropractor is a regulated health care professional that performs Chiropractic care.
A Chiropractor requires substantial training to practice. In the UK a practitioner now needs at least a masters degree to register with the General Chiropractic Council and to gain insurance to practice.
WHAT DO CHIROPRACTORS DO?
Chiropractors assess, diagnose and treat or manage a wide range of conditions, such as back and neck pain, minor sports injuries and sciatica.   Whilst historically many considered Chiropractors as 'back pain specialists' the reality is that Chiropractors often offer more than just spinal care. Seeing a Chiropractor for treatment might mean, for example, that you receive Chiropractic adjustments, exercises, lifestyle, nutritional or health care advice and so much more.
WHAT DOES A CHIROPRACTIC ADJUSTMENT DO?
The simple purpose of a Chiropractic adjustment, or treatment session, is to improve the functioning of your body. Our goal might be to reduce pain or restriction, manage conditions or indeed improve and support your wider wellbeing or performance.
Chiropractic treatment can be beneficial for a number of reasons; relieving symptoms of pain and discomfort, improving mobility and reducing disability associated with muscle and joint problems. Take a look at our Chiropractic homepage for an up to date list of what Chiropractic is considered and evidenced as being effective for helping.
OUR INITIAL CONSULTATIONS
Find out more about our initial consultations for new patients by clicking here.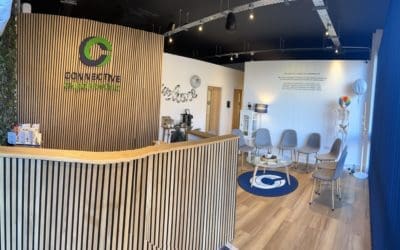 Get directions to our clinic before you start your journey Getting our address or contact details is one thing, knowing what to expect when you get here, or whether you are in the right place, is another. To take the stress out of your journey, we've decided to create...
BASINGSTOKE
Connective Chiropractic Ltd,
55 Kingsclere Road,
Basingstoke.
RG21 6XG

EMPOWERING WELLBEING WITH A CONNECTIVE CHIROPRACTIC MEMBERSHIP
Registered Company (10788728) in England & Wales, Registered Address: 55 Kingsclere Road, Basingstoke, Hampshire. RG21 6XG.

Site content last edited 11 September 2023 (Version 1.4) (Version 1.0 - 1st November 2017). Last update Monday 11 September 2023
Copyright: Connective Chiropractic Ltd. All rights reserved. The Connective Chiropractic name and Connective Chiropractic logo are registered trademarks.