The Initial Consultation at Connective Chiropractic; your local Chiropractor in Basingstoke
Understanding the Initial Consultation at Connective Chiropractic; your local Chiropractor in Basingstoke
Going to a Chiropractor for the first time can be scary. We know this. Not only may you be doing something for the first time and not sure what to expect. There's also a huge amount of varied and often poor quality information online that can make things confusing. As a result, we decided to create this post so you can find out what we do at Connective Chiropractic. As your local Chiropractor in Basingstoke, we feel it's our duty to make it simple for you to determine whether coming to see us in the first place is the right step for you and we'd like to make it as easy as possible.
This blog post contains information from Connective Chiropractic's owner and principal Chiropractor, James Harrison, as well as testimonials and reviews from our customers. It should give you a decent flavour of what to expect so there aren't any big shocks should you decide to take the plunge and book in to see us.
Connective Chiropractic is your local, multi-award winning Chiropractor in Basingstoke
The rationale for the initial consultation
As a regulated profession, the first steps to booking in with a Chiropractor is our initial consultation session. This session is important as it allows us to better understand what is going on and why you have come to see us. It also gives us an opportunity to find out more information from your body to inform how we can help you best. We'll also be able to tell you at this session whether Chiropractic is right for you or whether seeing another practitioner would be better for your needs.
We understand many people coming first our practice have aches and pains and want to make progress on them quickly, but the initial consultation let's us know how we can help you safely and effectively. It also means we can onboard you and welcome you to our clinic and ensure you're happy to proceed with all the information you need before we continue. We'll never force you to have Chiropractic treatment at our clinic and we will only ever adjust if there is a clinical rationale for care, so it's a great opportunity for us to find out that we are all on the same page and are happy to go forward before starting out.
We'll never force you to have Chiropractic treatment at our clinic and we will only ever adjust if there is a clinical rationale for care
What happens at the Initial Consultation at Connective Chiropractic?
Chatting about your issue
After welcoming you to our clinic, we'll start by having a chat with you about why you've come into see us. If you have aches or pains, we'll delve into the detail at this point. Common questions we tend to ask include when did it start, where exactly is the pain and what makes it better or worse.
We'll also ask you about your healthcare history. This will include your medical history as well as questions about how you look after yourself or prioritise your healing. These questions allow us to gain a picture of your lifestyle but also helps us to provide wider biopsychosocial healthcare advice, tips and tricks.
Nattering about Chiropractic
As part of your initial consultation, we'll chat about what Chiropractic is and answer any of your questions. We like to know that you know what you're signing up for before you sign up! It helps us to establish the right level of consent before going ahead, but it also means that we know that everyone in our clinic understand the basics of how Chiropractic may be able to help. Come armed with any questions you have: We love answering your questions.
I had my first ever Chiropractic appointment today […] being able to discuss my symptoms in quite some detail with James was just what I needed. He was clear, compassionate and so very knowledgeable.
James took a full background of what I have been experiencing, explained fully what Chiropractic treatment entails – he drew diagrams in some instances when explaining detailed elements of specific symptoms and ultimately put my mind at ease.
After today, I feel empowered to look after myself & very much feel like I have James in my corner. I am already looking forward to my next appointment. Thank you so much.
Testing your body at your Basingstoke Chiropractor, Connective Chiropractic
Once we've spoken about what's going on, we'll have a pretty good idea of whether Chiropractic may be suitable or not for you in theory. However, it's still not enough information on its own to be sure. A common reason for this is because symptoms (eg: pain, restriction, discomfort) don't always reflect the cause of what is going on and can be more secondary in nature. Doing a series of tests allow us to understand where exactly the source of the issue is and helps us to focus on it. We'll test the area of complaint but don't be surprised if we also test other areas at the same time to get a wider picture of the health, strength and resilience of your body.
When you need knowledgeable help to you, James is the person you should see. Not only highly qualified, but experienced and gifted. Totally professional and a lovely person. Be confident this is the person who will help you.
Just gotten home from my first session with James! He's so gentle and so knowledgeable… I am no doubt in knowing that James will help me and even after 1 session I have recommended him to a friend! Tomorrow is the first day of the rest of my life and I am sure James is going to help me live it pain free to the max!
What tests do we do at Connective Chiropractic?
You don't need a referral to come to see us at Connective Chiropractic, so we are highly trained to locate problem areas through a series of tests and then come up with a working diagnosis to inform our care.
The tests we perform depend on your needs, though we tend to focus on tests that we need to do to proceed safely. Tests can include neurological, systemic, range of motion, postural and orthopaedic tests. These may sound scary at first, but we'll guide you throughout so it is as comfortable as possible.
We'll let you know the basics of what we find as we go through the initial consultation, but will present more formally to you at our report of findings session the next time you pop in.
I had my initial appointment and first adjustment with James last week. He was brilliant. He explained every step and his method is gentle but so effective. Highly recommend.
You were recommended to me by a colleague. I found my initial consultation with you to be very thorough and you made me feel at ease…
Next steps 
We sometimes offer first adjustments or advice on our initial consultation session if there is a clinical rationale to do so. However, we tend to book in your report of findings session to go through what we've found in a bit more detail. At this session we'll let you know how many sessions we think it will take to help you and we'll also offer you a care plan. We often provide a care plan discount offer that reduces the cost of treatment to lower than our standard pay as you go rate.
The report of findings session is included as part of your initial consultation and you do not have to receive Chiropractic care afterwards if you choose that it is not right for you.We often try to keep the technical language to a minimum to help with wider understanding of what we've found and what we think is appropriate for you.
Providing healthcare information without Chiropractic care
As your local Chiropractor in Basingstoke, we are aware some people come to our initial consultation for further information or second opinions about what is going on in their body. Given we try to be as thorough as we can and devote time to understanding your body as well as we can, we embrace this. However, we would ask that you let us know if this is your intention at the start so that we can write a letter to your GP or present to you in a way that helps you best.
James had good eye contact and his body language was very positive. You listened with your heart as well as your head and explained everything. The session was very reassuring. You had such lovely manners, you didn't rush me and didn't hurt me.
Your techniques are effective without being so painful. Having had back pain on and off for years, i've been twisted and pulled in various ways- all have worked to some degree however yours seem to work for longer. As a larger lady to be pulled around in a gown is somewhat undignified – you have treated me with care and attention without making me feel uncomfortable.
Understanding the wider role of your Chiropractor in Basingstoke and your tailored care plan
We'll be alongside you throughout all stages of your Chiropractic care with us. As you progress through your agreed care plan, we'll continually reassess how we are progressing in line with what we found and discussed at your initial consultation. We do this to inform our continued care with you and to help you to make more informed choices about whether longer term maintenence or wellbeing care is in your best interests. As always, if you ever have any queries please feel free to contact us. We are all about helping people and transforming lives.
Reserve your session with us at a time that suits you best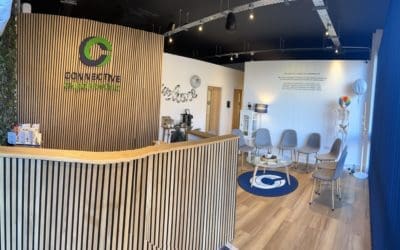 Get directions to our clinic before you start your journey Getting our address or contact details is one thing, knowing what to expect when you get here, or whether you are in the right place, is another. To take the stress out of your journey, we've decided to create...
read more
BASINGSTOKE
Connective Chiropractic Ltd,
55 Kingsclere Road,
Basingstoke.
RG21 6XG

EMPOWERING WELLBEING WITH A CONNECTIVE CHIROPRACTIC MEMBERSHIP
Registered Company (10788728) in England & Wales, Registered Address: 55 Kingsclere Road, Basingstoke, Hampshire. RG21 6XG.

Site content last edited 11 September 2023 (Version 1.4) (Version 1.0 - 1st November 2017). Last update Monday 11 September 2023
Copyright: Connective Chiropractic Ltd. All rights reserved. The Connective Chiropractic name and Connective Chiropractic logo are registered trademarks.