What is biopsychosocial health care?
Health is biopsychosocial
Health is defined by the World Health Organisation as "a state of complete physical, mental, and social well-being and not merely the absence of disease or infirmity"
In otherwords, being healthy is not just about whether you're ill or not but about your wellbeing in general. It's about complete wellbeing. It's about physical, mental and social wellbeing, otherwise known as 'biopsychosocial' wellbeing.
HISTORY OF BIOPSYCHOSOCIAL
The concept of biopsychosocial is both a philosophy of healthcare as well as a clinical practical guide. It developed from critical evaluation of biomedical modes of thought into a more integrative viewpoint of health and healthcare. Unlike more mainstream or traditional views of healthcare that suggested every cause of health or illness had an effect, the model suggested that additional variables could affect both how healthy someone is deemed or the applicability of research or scientific evidence on its own.
Whilst the biopsychosocial model initially formed as an opposing view to mainstream science of the day, these days the notion of being biopsychosocial is closely aligned these days to notions of 'evidence-based' or 'evidence-informed practice'. The biopsychosocial model suggests that lapses in health can not be related to any one component of the biopsychosocial model but an interrelation between all three.
Can money, a bonus or a salary rise increase workplace wellbeing?
WHAT DOES EACH ELEMENT OF 'BIOPSYCHOSOCIAL' MEAN?
BIOLOGICAL COMPONENT
It is suggested that there is a biological component to health. This may refer to muscles, ligaments, bones, connective tissues or organs. It could also include the chemical, neurological, physiological or pathological elements behind what makes us healthy or ill.
Traditional roles of healthcare tended to focus mainly on biological complaints or symptoms arising from biological complaints.
PSYCHOLOGICAL COMPONENT
For some, a non-mechanical viewpoint of health and healing is controversial. However, more contemporarily, it has become increasingly accepted that the role of the brain is more than just controlling our structure or biology but a component of its own that is closely related to our wider health. The psychological component does not only refer to illnesses of the mind itself but also the effects of health or illness on the mind.
SOCIAL COMPONENT
It is suggested that health and health care can be influenced by environment and community.
It is important to note that measuring wellbeing is not the same as measuring GDP.
10 Tips to get the most out of your Chiropractic care
CONFLICTING VIEWPOINTS OF THE BIOPSYCHOSOCIAL MODEL
The biopsychosocial model, as with any philosophical mode of care, has its advantages and disadvantages.
ADVANTAGES
One of the main advantages is that it tends to be considered as more patient-centric as well as evidence-informed. To be able to look at the causes of illness, the model suggests that it is not enough to focus on illness alone. Instead it suggests that it is more wise to look to the cause of the symptoms and to issues of wider wellbeing. These may include lifestyle, psychological or lifestyle issues (such as workplace wellbeing)
The model suggests that to become healthier you need to improve or grow on all three components of the model. The model suggests that the patient and their own support or community network have key roles behind the empowerment of health or wellbeing: It's not all about what happens in at the clinic, but a connection and meeting of minds between all.
One of the really nice things about the biopsychosocial model is that it helps to connect the dots between healthcare and non-healthcare practices in terms of improving health or lifestyle. Through the biopsychosocial model concepts that would be seen as non-evidence-based, pseudoscientific or 'woo' to some, may still have a key impact on their future health.
Biopsychosocial healthcare is more tailored to the individual and, when in line with the evidence based model (as proposed by Sackett), does not rigidly apply concepts to evidence alone. Instead, it informs care based on the best available evidence, the skills and expectations of the practitioner and the expectations, lifestyle and choices of the patient.
DISADVANTAGES
One of the biggest critiques has been with respect to mental healthcare. The biopsychosocial philosophy suggests that mental health issues can not occur in isolation, but will also have a physical and/or social element to them also. Whilst there are consistently increased evidence to suggest chemical, physical or social elements behind mental health issues, it is considered by some that the notion can increase the stigma, polarisation or stereotyping of such issues. Some have also argued that the division of biology and brain is confused too.
Some of the more leading discussion against biopsychosocial working has been with reference to the fact it is vague. Certainly for proponents of more traditional philosophies of healthcare, it can be considered flawed from the outset. It is suggested by some that the biospychosocial model is more confusing in terms of providing equality or equity of healthcare and that it is not clear or consistent in determining what component is more important in comparison to others with each patient. For some the inclusion of social matters mean there are just too many variables and they would prefer to reduce matters to increase certainty.
CONNECTIVE CHIROPRACTIC'S STANCE ON BIOPSYCHOSOCIAL HEALTH CARE
We operate through an integrative, biopsychosocial, evidence-informed philosophy of health care. We are happy to tailor our care plans and approach to you straight from the get go. Whilst recognising that health care is integrative, we are proud to serve our part in the larger puzzle by offering Connective Chiropractic as well as workplace-wellbeing workshops, open workshops and business wellbeing packages.
In 2017, Connective Chiropractic were proud to formally adopt the WHO definition of health as part of its practice philosophy. As part of doing so, however, we decided to be bold in extending the three components into many more. Our connective definition of biopsychosocial health comprises 12 components.
For us,these include standard biopsychosocial concepts (biology, neurology, thoughts, social connection). We also have included some extras including (education, communication, direction, love, energy, ease, touch and nutrition).
We intend to write blog posts on each of these components in turn, so please do check back for further information soon…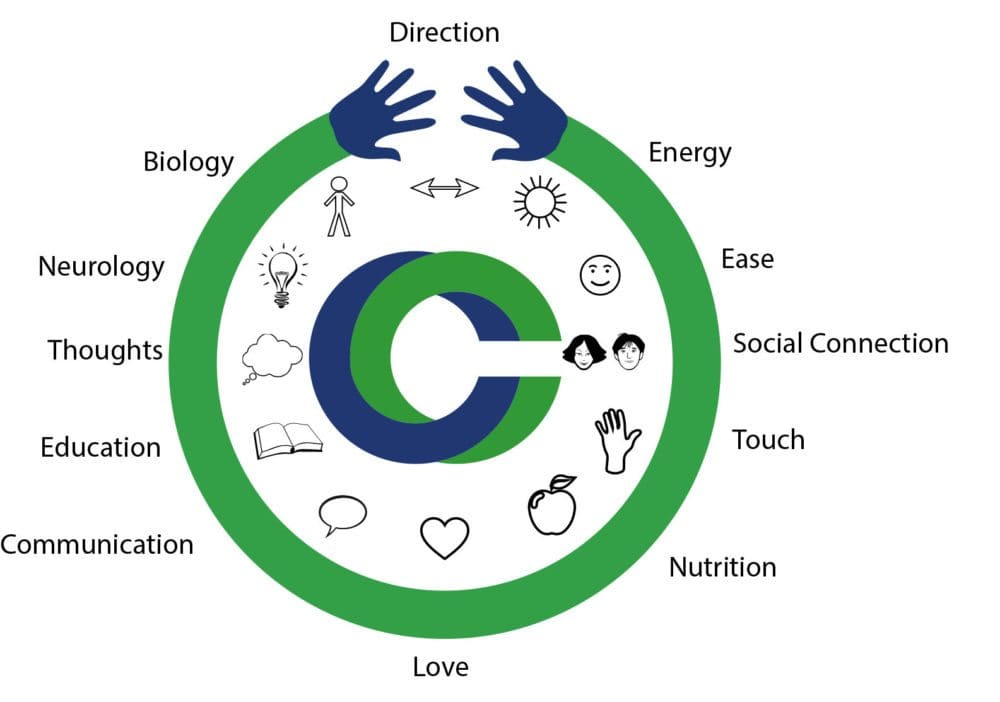 LEARN MORE
For more information about biopsychosocial health care or other modes of health care model or philosophy, please attend our 'What is health' workshop.
Find out about Connective Chiropractic's workshops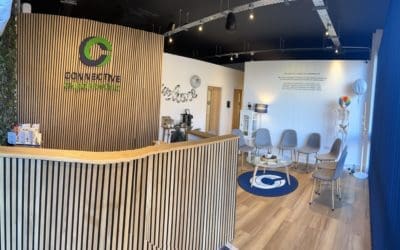 Get directions to our clinic before you start your journey Getting our address or contact details is one thing, knowing what to expect when you get here, or whether you are in the right place, is another. To take the stress out of your journey, we've decided to create...
BASINGSTOKE
Connective Chiropractic Ltd,
55 Kingsclere Road,
Basingstoke.
RG21 6XG

EMPOWERING WELLBEING WITH A CONNECTIVE CHIROPRACTIC MEMBERSHIP
Registered Company (10788728) in England & Wales, Registered Address: 55 Kingsclere Road, Basingstoke, Hampshire. RG21 6XG.

Site content last edited 11 September 2023 (Version 1.4) (Version 1.0 - 1st November 2017). Last update Monday 11 September 2023
Copyright: Connective Chiropractic Ltd. All rights reserved. The Connective Chiropractic name and Connective Chiropractic logo are registered trademarks.