Understanding your tailored treatment care plan at Connective Chiropractic
When you come in for an initial consultation, or if you haven't been for a while, we'll reassess your care plan. This process is completely tailored to you. As part of this consultation process we'll talk to you about how many sessions we think it will take for you to reach your healthcare goals. We'll also let you know about the three stages of care and where you are on your voyage with us.
Working to your treatment care plan
No matter whether you decide to take a care plan or whether you want to pay as you go, we'll work in line to the care plan we discuss with you at your report of findings session. In essence, this means that the care you receive with us wont be edited by cost considerations: You'll always receive our best possible care that we can provide no matter how you pay.
In the past some have asked for us to achieve the same results in fewer visits than we have recommended. Whilst it can sometimes happen that results are noticed quicker than planned (in fact we hope this happens), we have found that in almost all circumstances care quality has been compromised. As a result of this, we have made the decision to no longer offer 'quickie' care plans: We'd like to get you better, feel better and stay better and our care plan predictions go in line with this.
Our initial care plans are intended to cover the first two stages of the three stages of care.
James is a very knowledgeable Chiropractor, he has helped me so much. The clinic is easy to find and very clean and professional. I would thoroughly recommend Connective Chiropractic.
Agreeing your Connective Chiropractic treatment care plan
We'll never force you to take a treatment care plan with us. However, our recommendations are certainly made with your best interests in mind. To come up with our treatment care plan predictions we use the best available scientific evidence to inform our decisions. We'll also take into account your circumstances and our skills set and expertise too.
Made me feel at ease and explained everything thoroughly. Extremely happy with service and booked further treatments. Very happy
Affording your treatment care plan
As part of the initial consultation process, we'll offer you additional ways to pay for your care plan should you wish to prebook and prepay for your entire course care with us in advance. We might provide discounts or instalment pay options at this point.
Taking a treatment care plan package with us offers you the most affordable way to manage your care with us, however should they not suit your needs you are more than welcome pay-as-you-go also. We understand that these plans may not suit everyone and that's okay
There is some evidence out there to suggest that financial stress and tensions relating to it can affect your healing outcomes, so we are always keen not to be too 'salesy' in our process, even if we have to discuss costs in advance so we can all ensure we're on the same page when it comes to managing your care.
Paying for your treatment care plan
Treatment care plans are often paid either in full or in monthly instalments by direct debit following an initial payment. We'll discuss this with you at your report of findings session should this be appropriate.
Not needing an adjustment in your care plan
In some circumstances we may be wrong in our treatment care plan recommendations. More likely reasons for this may include where research is lacking, where care plans are not adhered to or additional health issues arise during a care plan.
We only ever give adjustments where there is a clinical rationale for care. So, if we find in any session we don't need to adjust we will let you know and reschedule your appointment for another time. Surplus sessions can be rolled over for additional maintenance/wellbeing sessions.
In the less likely event that we require further sessions we will offer additional sessions at a reduced price. We may also invite you into our Ultimate Wellbeing Community for further discounts and benefits.
After having back pain for a while, I went to see James at Connective Chiropractic. I was impressed with his knowledge and range of skills, and was made to feel really comfortable. James listened to my concerns, and made me pain-free after a few short visits. Thanks James, I can't recommend you enough!
What happens if we are unable to offer Chiropractic care in your circumstances or if Chiropractic treatment plans are not appropriate?



The only circumstance where we wont offer a treatment care plan is where we consider Chiropractic is not suitable for you. In this circumstance we will do our best to refer you to a more appropriate practitioner, clinic or treatment.
We reserve the right not to offer initial treatment care plan offers if we feel that it is not appropriate or if we believe that our pay as you go route is more suitable for you.
Additional questions about your treatment care plan?
We endeavour to be open, transparent and accountable with our prices and care plans. If you have any questions about where you are on your care plan or your payments, please feel free to contact us. Please note that we are unable to discuss or offer care plans without first having taken an initial consultation.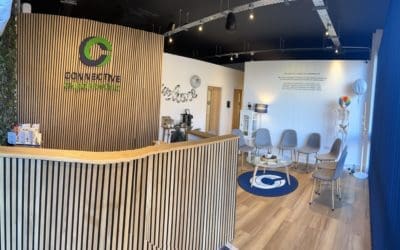 Get directions to our clinic before you start your journey Getting our address or contact details is one thing, knowing what to expect when you get here, or whether you are in the right place, is another. To take the stress out of your journey, we've decided to create...
read more
BASINGSTOKE
Connective Chiropractic Ltd,
55 Kingsclere Road,
Basingstoke.
RG21 6XG

EMPOWERING WELLBEING WITH A CONNECTIVE CHIROPRACTIC MEMBERSHIP
Registered Company (10788728) in England & Wales, Registered Address: 55 Kingsclere Road, Basingstoke, Hampshire. RG21 6XG.

Site content last edited 11 September 2023 (Version 1.4) (Version 1.0 - 1st November 2017). Last update Monday 11 September 2023
Copyright: Connective Chiropractic Ltd. All rights reserved. The Connective Chiropractic name and Connective Chiropractic logo are registered trademarks.