What happens at your Report of Findings session at Connective Chiropractic?
What to expect at your Report of Findings session at Connective Chiropractic 
Your second appointment session with us is your Report of Findings session.
Here, we'll go through with you what we found at the initial consultation a little more formally with you. We'll also answer any questions that you have before explaining your treatment care plan with you. Once we've discussed your personalised treatment care plan, we'll then check that you're happy to proceed. We'll then get started with your care.
The first stage of care at this point is pain stage and we'll agree our goals for the first session with you before proceeding.
The Cost of a Report of Findings session at Basingstoke Chiropractic clinic, Connective Chiropractic
Some Chiropractic clinics will charge for a separate report of findings session. We do not. We believe it is an integral part of our on-boarding and initial consultation process so don't feel its right to charge further for this.
Should you decide that you do not want Chiropractic care at your report of findings session, there shall be no charge to you as we consider the cost included as part of your previous initial consultation session.
Should you be happy to start your care however, we will charge based on our pay as you go prices unless you choose to opt for our Chiropractic treatment care plan packages, where offered and appropriate.
If Chiropractic care is deemed not suitable for you, we'll do our best to refer you to a practitioner, clinic or treatment modality that we feel may be more appropriate. We currently do not charge additionally for referrals or GP letters.
After trying so many Chiropractors before, I cant say how impressed I was with James at Connective Chiropractic. Nothing was too much trouble, he explained everything to me and I understood exactly what he was planning to do right from the start. After a few sessions i feel so much better in myself and I am confident that i'll be pain free in no time at all.
Taking your Report of Findings information home 
Where possible, we will give you some information to take home about what we found at your initial consultation. We recommend keeping all documentation we give to you secure as it may help you to better track your care with us and understand where you are at any one point in your voyage with us through our stages of care.
Your formal welcome to our Basingstoke clinic 
We'll formally welcome you to our clinic at the report of finding session if we feel that Chiropractic care is suitable for you and we have agreed to get going in line with our care plan recommendations.
James is really friendly and knowledgable. I felt a difference straight away after my first session, and have just had my second. His office is a calm, safe space and he talks you through everything before commencing with treatment which helps you to understand exactly what he's doing and how he can help you. Would highly recommend to anyone who's looking for a chiropractor.
Bringing loved ones with you to your Report of Findings session
We encourage new patients to bring a loved one with them to their initial consultation or report of findings session. We find that as treatment care plans progress, those with the support of their friends or family tend to do better and we often find that they are often better equipped for knowing what is going on from the outset.
We'll check to see that you consent to your loved one being in the room (a formality, but something we have to do in order to proceed). If you're not so happy we'll of course make sure your loved one is comfortable either in our clinic or waiting areas.
Please be aware that we require for a parent or appropriate guardian to be present with children. Should you require a chaperone for your appointment too, they are more than welcome with your full consent.
Due to the sizing of our rooms, and for health and safety reasons, we may not be able to host large families in our clinic rooms and may ask for some members to wait in our comfortable welcome area.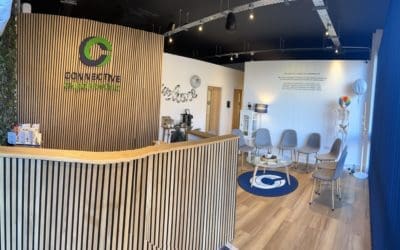 Get directions to our clinic before you start your journey Getting our address or contact details is one thing, knowing what to expect when you get here, or whether you are in the right place, is another. To take the stress out of your journey, we've decided to create...
read more
BASINGSTOKE
Connective Chiropractic Ltd,
55 Kingsclere Road,
Basingstoke.
RG21 6XG

EMPOWERING WELLBEING WITH A CONNECTIVE CHIROPRACTIC MEMBERSHIP
Registered Company (10788728) in England & Wales, Registered Address: 55 Kingsclere Road, Basingstoke, Hampshire. RG21 6XG.

Site content last edited 11 September 2023 (Version 1.4) (Version 1.0 - 1st November 2017). Last update Monday 11 September 2023
Copyright: Connective Chiropractic Ltd. All rights reserved. The Connective Chiropractic name and Connective Chiropractic logo are registered trademarks.