Do You Have Fear Avoidance Behaviours?
By having a bad relationship with pain, you can develop fear avoidance behaviours.
Pain is a funny thing. We definitely don't mean the good kind of funny either! It's one of those things that we all deal with differently, we all experience differently and we all handle, you guessed it, differently. Discovering if you have fear avoidance behaviours is a good place to start. 
Something not so often talked about is your personal connection with pain. How you manage it, how you deal with it and what your relationship with pain is like. 
It might sound weird to talk about the relationship you have with pain but it's more important than you may realise. Having a good relationship with pain can impact your mindset and recovery. 
By having a bad relationship with pain, fear avoidance behaviours can develop. And what we mean by fear avoidance behaviours is where you start doing something differently because of the pain that you are experiencing. It can be a tricky one to work out, so let us explain it more.
Reserve your appointment now and save £50 OFF
We want to help you if you have aches or pains. Reserve and pay online using our safe and trusted online booking system for just £60 (usually £110)
What is fear avoidance behaviours?
Pain is often caused by a mixture of physical, mental and social factors, otherwise known as biopsychosocial wellbeing. So, when someone develops chronic, musculoskeletal pain it may affect all 3. Where the pain or fear of pain can lead you to behave differently, it can in turn create additional factors that can make the pain worse.
For example, you may decide that because you have got back pain, you're going to go to the gym and hammer it. Do loads of things in the gym, lots of weight training to strengthen those muscles. The problem here is that you may then injure yourself further, creating more pain and discomfort. 
Then, eventually, you go to see somebody, maybe a Chiropractor like James at Connective Chiropractic, and say "look, my backs shot to pieces, I can't get on top of it. I've tried everything." And yet, half the issue is unrelated to the initial cause of your back pain, but the things you've been doing (or not doing) as a result.
It's actually quite common for us to see that people are quite dismissive of our suggestion to do the opposite (especially if we are saying for you to reduce or change your exercise routine along with your care). Here lies the difficulty of fear avoidance behaviours: It's often easier to think we've made a mistake than to realise how interrelated your pain is with what you choose to do. Often going back to basics and systematically dealing with the root of the initial pain is the key – and that's where we can help.
Nine out of ten times, movement and motion is the best way of getting out of your aches and pains.
There's this mindset, aside from the physical side of it that you will need to get on top of first.
Another example of a fear avoidance behaviour is when you're not doing something because of the pain or the fear of the pain.
You may have the same back pain, for example. But this time, because it is sore, you now put your feet up at home and do nothing. Because of this it then seizes up further, creating more pain and discomfort.
Nine out of ten times, movement and motion is the best way of getting out of your aches and pains and to feel freer.. But it's important to know why and when you should do things to help your pain, not just what to do. You can easily find yourself clutching at straws if you don't get a better relationship and understanding of your pain. Connective Chiropractic are able to help if you need it, just get in touch. 
Don't be too surprised however if we give you treatments advice, tips or tricks that you might have already discredited or tried. Once you do them though, you'll start to feel more on top of the pain and have that overview and sense of what that pain truly meant to you. 
This is the point where you will hopefully be able to start to push it. In a good way. You'll start to change your behaviours and that's when you really start to snowball into health and wellbeing. Because now, it's not just about chiropractic. It's not just about this pain. 
It's about management of pain. Management of your lifestyle, your expectations, what you get out of healthcare. It's important that your focus shifts to this as it can help and benefit you massively going forward. It's about what you can do without the pain and about pushing forward from the things that frustrated you or held you back.
Our question now is, do you have signs of fear avoidance behaviours? If you do, it might be worth just coming in to have a natter at an initial consultation about them. We'll help you to identify how they may be making things worse. We'll also give you strategies on how to push through so you can get on top of your aches and pains. If Chiropractic is suitable for you, we'll do all we can to get on top of it so that those aches, pains and frustrations become nothing more than a memory. 
As always, if you've got any queries or comments, pop us a message and we will respond as soon as we can!
Reserve your appointment now and save £50 OFF
Reserve and pay online for just £60 (usually £110)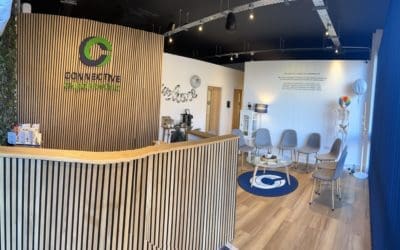 Get directions to our clinic before you start your journey Getting our address or contact details is one thing, knowing what to expect when you get here, or whether you are in the right place, is another. To take the stress out of your journey, we've decided to create...
read more
BASINGSTOKE
Connective Chiropractic Ltd,
55 Kingsclere Road,
Basingstoke.
RG21 6XG

EMPOWERING WELLBEING WITH A CONNECTIVE CHIROPRACTIC MEMBERSHIP
Registered Company (10788728) in England & Wales, Registered Address: 55 Kingsclere Road, Basingstoke, Hampshire. RG21 6XG.

Site content last edited 11 September 2023 (Version 1.4) (Version 1.0 - 1st November 2017). Last update Monday 11 September 2023
Copyright: Connective Chiropractic Ltd. All rights reserved. The Connective Chiropractic name and Connective Chiropractic logo are registered trademarks.