Family Chiropractic care at Connective Chiropractic
Family Chiropractic available at your local Chiropractic clinic, Connective Chiropractic!
Chiropractic is suitable for people of varied ages, backgrounds, interests and hobbies. Whilst we always check to see whether Chiropractic care is suitable an individual, no matter their age or expectation, we increasingly find families come to see us. We love seeing families as it means that you can focus on your care together and we've found it often helps to create more positive outcomes.
Family Chiropractic consideration 1: Are you all ready?
Consent is a big issue with Family Chiropractic care. We'll never offer Chiropractic adjustments without full consent, so it can sometimes be an issue, especially with those who are younger or older. If your Children are under 18, we may require an appropriate adult to join them. However, sometimes we are able to see Children under 18 if we believe them to be competent enough to consent on their own. (This is a legal consideration and one we have to make automatically. Please do not be offended if we ask you to accompany your child in at the clinic. You'll probably want to anyway!).
For those who suffer with illnesses that may affect their ability to consent or communicate their needs, we also have to act a little bit with care. Again, we need to be sure that consent is full and that it is safe to proceed. Please contact us if you are unsure and we will do our best to help make things easier.
Chiropractor or Physio? Can you see both?
Family Chiropractic consideration 2: How are you going to attend?
We love seeing families and have seen people from all ages. However, it can be quite a lengthy process to go through everyone's initial consultations in one go. If you want to be seen all at the same time, you are welcome to relax in our welcome area whilst your loved ones are being seen by us. It's often a good idea to break everyone's initial consultations into several visits and then book further appointments altogether. We've found that our Sunday shifts are often great for younger families as the reception area is generally quieter.
Family Chiropractic consideration 3: Are you ready to support each other?
Health has a social component as well as a physical and mental component. It's really good therefore when you can come together to the same clinic as you can compare stories, support each other and ensure you all get the most out of your care. This may include holding each other to account in terms of our aftercare exercises or stretches. Having others to support you is often really useful and we certainly find that people who come in with others tend to do better in their care. We love having loved ones in the clinic at the same time and we often find this can help in terms of care plan retention and adherance.
We find that those who come in groups, even when not as part of a Family Chiropractic session, gain benefits. Its one reason of many why we offer referral discounts and why we encourage people to invite their colleagues along. We find it really is good to have people nearby who understand, support you and hold you to account too.
Booking in as a family
No matter your family circumstances, we are happy to help as much as we can. You can book in easily by contacting us, or clicking the link below to book in online. We've made it as easy as possible to book in and are open on Sundays and around working hours. (Of course, family members don't have to all attend at the same time to receive Family Chiropractic care and we are happy to accommodate your family's needs as much as we can.)
Book your appointment with Connective Chiropractic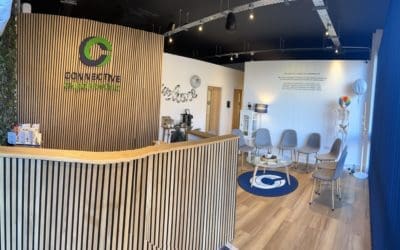 Get directions to our clinic before you start your journey Getting our address or contact details is one thing, knowing what to expect when you get here, or whether you are in the right place, is another. To take the stress out of your journey, we've decided to create...
read more
BASINGSTOKE
Connective Chiropractic Ltd,
55 Kingsclere Road,
Basingstoke.
RG21 6XG

EMPOWERING WELLBEING WITH A CONNECTIVE CHIROPRACTIC MEMBERSHIP
Registered Company (10788728) in England & Wales, Registered Address: 55 Kingsclere Road, Basingstoke, Hampshire. RG21 6XG.

Site content last edited 11 September 2023 (Version 1.4) (Version 1.0 - 1st November 2017). Last update Monday 11 September 2023
Copyright: Connective Chiropractic Ltd. All rights reserved. The Connective Chiropractic name and Connective Chiropractic logo are registered trademarks.