Posture advice: Is your backpack too heavy for comfort?
Posture Advice : Why Connective Chiropractic might be able to help
We are increasingly known for providing health and wellbeing tips and tricks along side our Chiropractic care. This includes posture advice. Our rationale for this is to better equip you with the skills, knowledge and know-how into making looking after yourself easier. Whilst Chiropractic care is effecting at helping and managing a number of conditions, and many see us for ongoing wellbeing or maintenance care through our membership plans, there is a lot that you can do yourself at home to keep things moving, feeling and staying better. Often it's a lot of the basic advice we know but forget when we need it most.
Going to see James for chiropractic care leaves me feeling more relaxed and happy than any massage or spa treatment I've ever had. I can't recommend Connective Chiropractic enough.
Don't be a victim of modern life 
Modern lifestyles are often very hurried and fast paced. As a result we often ignore or forget some of the real basics to do with health and wellbeing. Not carrying so much weight that it overwhelms us is one of the very basic posture advice tips we often overlook.
Children in particular are increasingly required to carry heavy school books, laptops and equipment that can weigh them down and put additional strain on their posture. Carrying a heavier weight in itself is not so much of an issue (Our bodies are designed to withstand and distribute forces acting upon it). However long term exposure to heavier loads on our spine and body can create biomechanical change, which can in turn lead to aches, pains and avoidable problems.
Postural advice tip 1: Don't ignore the issue
Focus in on what you are carrying. Do you have to carry everything at one particular time? Can you distribute the weight differently?
Postural advice tip 2: Distribute the weight evenly
No matter your load, ensure that the weight you are holding is evenly distributed. Think about the impact of the pull of lifting the object on your body: Your 'centre of gravity' should be closer to your body. Good ways to ensure you are more balanced are to ensure you're using both straps of the bag or backpack. If it has an additional waist clip or belt this can help too. If using hand held bags, distribute their contents between both sides. Avoid putting bags across your elbow or on one shoulder alone.
Postural advice tip 3: Don't carry what you don't need
You'll be surprised at how heavy your backpacks are until you weight them. The maximum suggested backpack weight for a child should be 10% of their body weight. For an adult the maximum weight should be about 20% of their body weight. If you are ever unsure, get weighing and reduce your backpack or bag down.
Of course there are some more 'at risk' jobs. Those in the military, for example, who have to carry very heavy backpacks could benefit from a course of corrective and/or preventative care or exercise to assist them. Other examples could also be new mums who are breastfeeding or carrying their child. We are also very amazed at how much people who come into our clinic carry 'just incase' in their handbags.
Postural advice tip 4: Get it checked out
Connective Chiropractic offer a complementary spinal screen, biomechanics and postural assessment. It conveniently only takes about 10 minutes or so for us to assess your posture, but we can advise from there about whether there are any postural advice, tips or tricks that could be of benefit for you to note. We'll also explain whether Chiropractic care might be able to help.
We advise that it is often best to get it checked out before pains arise, however if you are suffering from aches, pains or are noting that you're not moving properly because of restrictions in your body, this session is also a great commitment-free way of getting some more information from us before on boarding with our clinic and coming in for an initial consultation.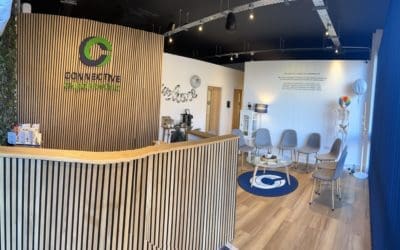 Get directions to our clinic before you start your journey Getting our address or contact details is one thing, knowing what to expect when you get here, or whether you are in the right place, is another. To take the stress out of your journey, we've decided to create...
read more
BASINGSTOKE
Connective Chiropractic Ltd,
55 Kingsclere Road,
Basingstoke.
RG21 6XG

EMPOWERING WELLBEING WITH A CONNECTIVE CHIROPRACTIC MEMBERSHIP
Registered Company (10788728) in England & Wales, Registered Address: 55 Kingsclere Road, Basingstoke, Hampshire. RG21 6XG.

Site content last edited 11 September 2023 (Version 1.4) (Version 1.0 - 1st November 2017). Last update Monday 11 September 2023
Copyright: Connective Chiropractic Ltd. All rights reserved. The Connective Chiropractic name and Connective Chiropractic logo are registered trademarks.