Chiropractic simply is a method of adjusting the bones of your body to improve skeletal alignment. In doing so, it helps your nervous system work more efficiently, relieves pain or discomfort and increases mobility.
Step 1 – Initial Consultation
First, we will get to know you by asking you some questions to assess why you have come to the clinic and how we can meet your expectations. We'll also ask about your general health and previous conditions.
Step 2 – Physical Examination
Secondly, with your consent, we will conduct a physical examination. This includes neurological, orthopaedic tests and systemic and biomechanical checks where required. This helps us gain further information about your body, discover any issues, identify whether it is safe for us to proceed and provide you with a full explanation of the results.
Step 3 – Making A Plan
Finally, if we are happy to proceed your Chiropractor will follow an agreed care plan. Your Chiropractor will explain the results of your examination, the proposed care plan, the benefits and risks of care and answer any questions you may have before proceeding. We may ask you to sign a consent form to proceed with care. A first treatment session follows an initial assessment where there is sufficient rationale to do so.
I can not explain how it works but all I can say is when I walk out of the Chiropractors after seeing James, I feel absolutely amazing. Suzie. J, Northampton.
James is a true professional, he explains everything he does while he is working and has made a huge difference to my ease of movement. Sally S, Basingstoke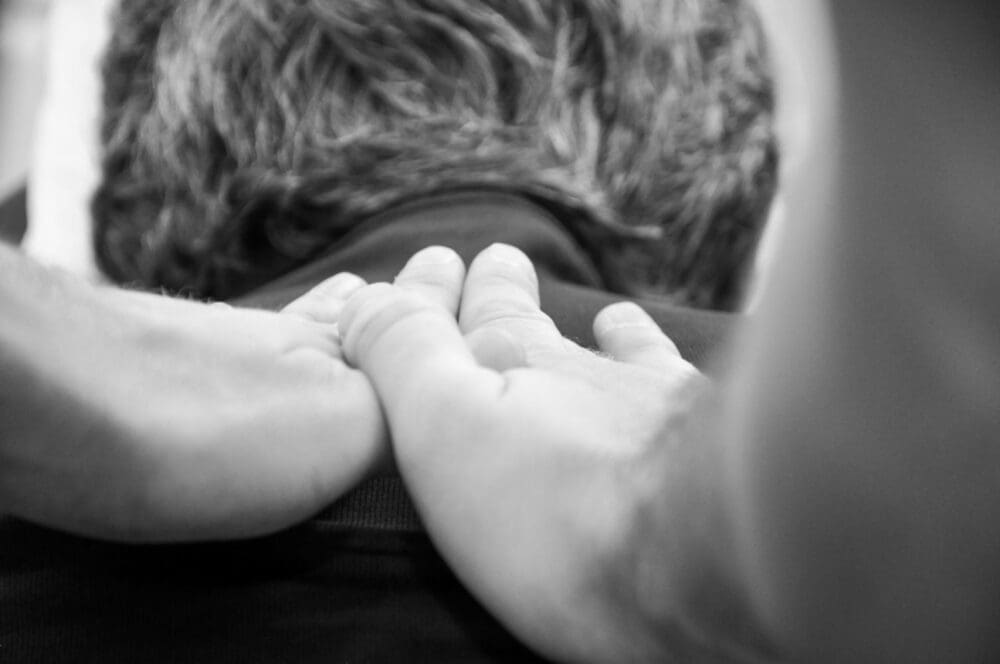 FREQUENTLY ASKED QUESTIONS
Will Chiropractic care hurt?
We correct misalignments using quick, gentle and accurate adjustments to your body. Should you require other Chiropractic techniques we are happy to utilise these with your informed consent.
How will I feel during Chiropractic care?
During a course of Chiropractic care, you can expect to feel physical changes as your body reconnects and realigns. These may include stiffness or tiredness, particularly after your first session. Your Chiropractor will provide aftercare advice and any necessary lifestyle changes to get the most out of your care. It is important to talk to your chiropractor if you feel worried about anything either during or after receiving Chiropractic care.
How many sessions will I need?
The number and frequency of sessions will depend on a number of factors. This includes age, the extent of the injury, duration, general fitness, stress and posture. We welcome patients looking for maintenance care or who want to improve their state of health or wellbeing. We are happy to discuss your care, expectations and goals with you.

Will Chiropractic treatment benefit my general health?
You'll discover that small changes can make a big difference. Good health is as much about enjoying a positive sense of physical, emotional and mental wellbeing as it is about being pain-free. Many of our patients report that they are able to achieve more due to moving or feeling better, getting rid of their aches or pains and/or for receiving chiropractic care.
What can I do after Chiropractic Care to help myself?
Your Chiropractor will inform you of things you can do at home to assist your care plan. This advice will tailor to your specific needs. After every session, you should avoid strenuous activity, keep hydrated and think about balance (nutritional, lifestyle, social and postural). If you need to discuss anything you can contact us by any of the methods below.

HOW DOES THE DIRECT DEBIT WORK?
Payments shall be taken by direct debit in line with the plan selected. The direct debit shall be collected by Go Cardless Ltd on/about the 1st day of each month. The standard direct debit guarantee applies and will be handled by Go Cardless Ltd. Payments shall be taken in advance of sessions redeemed.
You are able to cancel your direct debit at any time, however membership benefits will stop that following month. Any rollover sessions must be redeemed before the end of month the direct debit is cancelled. Appointments can still be booked and paid for on a pay as you go basis.
All payments by direct debit are taken in advance of the appointment booked. Additional appointments must be booked on a pay as you go basis.
DO I NEED TO RENEW MY CONNECTIVE CHIROPRACTIC WELLBEING MEMBERSHIP?
Membership shall auto renew until cancelled. Cancellation may be given by Connective Chiropractic with notice.
WHEN MUST I REDEEM MY MEMBERSHIP?
Payments are made in advance. This means that for a payment made on August 1st, you will have the whole of August to redeem your appointment. Silver and Gold plans have 'rollover appointments' allowing you to rollover appointments into other months should you not use them. These only expire once redeemed or on cessation/default of the plan.
WHAT HAPPENS IF I CAN'T MAKE MY APPOINTMENT? CAN I POSTPONE?
If you are unable to make an appointment please let us know at first instance and we will try to rearrange your appointment within the month of your payment cycle, subject to availability.
Silver and Gold Plans have 'rollover' sessions to permit transferability of unused sessions into other months.
We reserve the right to charge our cancellation fee in case of missed appointments without notice.
WHAT IF I WANT TO CANCEL MY MEMBERSHIP?
You are entitled to cancel your Membership scheme at any time.
All payments are taken in advance so you are entitled to complete any unused sessions on the month you cancel.
We do not offer refunds for unused sessions.
WHAT IF I WANT TO CHANGE MY MEMBERSHIP?
You are entitled to notify us that you wish to change your plan with us at any time. The changes will come into effect the following month.
CAN I ADD ELEMENTS ONTO MY MEMBERSHIP?
Should you require additional checks as part of the plan they are to be charged at the
Pay As You Go
rate.
WHY ARE THE PLANS OFFERED AT DISCOUNTED PRICES?
We only ever give Chiropractic adjustments where there is a clinical rationale for care. We find that those under wellbeing care often require fewer adjustments or may not require an adjustment at a check/appointment, however we will still provide ongoing care, assistance and service to Empower Wellbeing. Through our promoting wellbeing schemes, we also provide additional education and benefits to care for and address wider wellbeing.
The discounted price incentivises our patients to get checked regularly, but does not mean that Chiropractic care is always offered.
Membership does not only include the provision of Chiropractic care but also membership to the Empowering Wellbeing community, which gives additional health care connection, exclusive offers, discounts, workshops and/or events.
Discounts offered include calculations of reasonable variation in appointment availability due to demand, unexpected emergencies, planned annual leave and/or public holidays. The schemes are discounted further as the packages increase to help current patients with empowering and promoting health and wellbeing at a reduced price.
HOW DO I KNOW IF A MEMBERSHIP IS RIGHT FOR ME?
The plans are not intended for everyone and it is suggested that you contact us straight away if you have any queries about whether you are suitable to join one of our plans
CAN I STILL ACCESS YOUR SERVICES WITHOUT BEING A MEMBER?
Yes.

We realise that these packages may not suit everyone.

We offer Pay As You Go price structures for those that just want to use our services to get out of pain and promote wellbeing, gain further information or dip in and out of our services in line with whatever they need.

If you would like more information on our empowering and promoting wellness schemes or any of our other Chiropractic services please contact us.
HOW CAN I BOOK APPOINTMENTS AND CHECKS?
Appointments are subject to availability and can be booked online via the Connective Chiropractic treatment booking page by clicking here or by
contacting us
. We recommend booking in advance to avoid disappointment.  
These offers do not include 'initial consultation and first adjustment' sessions.
CAN I GIVE MY MEMBERSHIP SESSIONS TO ANOTHER?
Membership schemes are non-transferable and can not be used in conjunction with any other offer.  Chiropractic adjustments shall only be offered where there is considered sufficient rationale for care.
WHAT HAPPENS IF I CANCEL MEMBERSHIP DURING THE FIRST MONTH AFTER REDEEMING A SESSION?
Nothing. All our appointments are paid for in advance.
We do not offer refunds for our membership plans so if you have not redeemed your session you have until the end of the month to redeem it.
IM GOING ON HOLIDAY- WHAT SHOULD I DO?
Our silver and gold plans have rollover sessions to give additional flexibility in case you are on holiday or are unable to make it. In exceptional circumstances we reserve the right to offer more sessions. We can, of course, also cancel the direct debit and restart it when you are back (Please be aware however that you might lose access to any rollover sessions through cancelling however).
WHAT ARE ROLLOVER SESSIONS?
We recognise that there may be some times when you are unable to make an appointment or there are times when we are unable to see you (e.g.: because we are fully booked or due to public holidays).
As a result of this, we offer rollover sessions in our Silver and Gold plans to allow you the option to rebook your session more flexibly without having to worry about wasted costs.
Rollover sessions only accrue if you have not redeemed your session(s) one month and can be used at any time during the duration of your plan. Rollover sessions are not transferable.
Connective Chiropractic will keep a record of any rollover sessions permitted.
In the event of dispute of rollover sessions pay as you go payments shall be taken and reimbursed, as required, on checking the direct debit mandate payment history
WHAT HAPPENS IF THERE IS A DISPUTE ON PAYMENTS I HAVE LEFT
In the event of dispute of the number of sessions or rollover sessions are permitted, pay as you go payments shall be taken and reimbursed, as required, on checking the direct debit mandate payment history.
Payments are made in advance of sessions required (i.e: The payment on August 1st is for sessions redeemable in August. For the bronze plan, please note that two payments are required per redeemable session).
BASINGSTOKE
Connective Chiropractic Ltd,
55 Kingsclere Road,
Basingstoke.
RG21 6XG

EMPOWERING WELLBEING WITH A CONNECTIVE CHIROPRACTIC MEMBERSHIP
Registered Company (10788728) in England & Wales, Registered Address: 55 Kingsclere Road, Basingstoke, Hampshire. RG21 6XG.

Site content last edited 11 September 2023 (Version 1.4) (Version 1.0 - 1st November 2017). Last update Monday 11 September 2023
Copyright: Connective Chiropractic Ltd. All rights reserved. The Connective Chiropractic name and Connective Chiropractic logo are registered trademarks.