Low Back Pain prevalence in the UK
Low back pain prevalence in the UK: If you have low back pain, you are not alone.
Between 2018 and 2019 alone, 498,000 UK workers were reported to suffer from workplace related musculoskeletal disorders. Out of this number, 20% (200,000), suffered from low back pain.
Low back pain prevalence
Low back pain is a common disorder, with nearly every UK worker affected by it at some point in time.
In 2018, the Lancet published three papers relating to low back pain. According to Martin Underwood, co-author of the Lancet series of research papers, almost everyone experiences back pain at some point in their lives.
Low back pain affects people of all ages. However, statistically It tends to affect middle aged people and women more than men.
The effect of low back pain on our health and economy
With 540 million people affected worldwide –the UK alone has witnessed a 12% increase in the likelihood of a person experiencing disability as a direct result of low back pain.
According to data released by the Office for National Statistics, nearly 31M work days were lost in the UK in 2016 as a direct result of musculoskeletal problems, which included low back pain. The cost of this is estimated to be at £12.3B each year with individuals spending an estimated £1.6B on treatment.
Surgery is not always the answer for low back pain
The majority of UK spinal surgeons tend to avoid surgery for nonspecific low back pain. The risks are just too high. Instead, most GPs look to safer activities, exercise and manual therapies, such as Chiropractic first before medicating or considering surgery. Indeed, Chiropractic is considered as effective for helping with low back pain.
Prevention sometimes better than cure for low back pain
That said, the lancet reports gave notice of some additional risk factors that you can address if you are concerned about your risk for low back pain. Certainly "People with physically demanding jobs, physical and mental comorbidities, smokers, and obese individuals are at greatest risk of reporting low back pain". Thus it does make sense to do all you can to focus on all aspects of biopsychosocial health to reduce your likelihood of low back pain. You can do a lot worse than our simple back stretches and exercises or booking in to see us for our initial consultation if you are suffering right now.
James is amazing. I've been seeing James for a couple of years now and we have such a giggle every time I come in. It's not just about the chiropractic side of the house it's much more. Understanding the wider holistic picture helps James figure out what's going on and there hasn't been one problem he hasn't fixed. I would highly recommend this service.
Discover what happens at our initial consultations
Reserve your appointment with us
I have a recurring lower back issue for a variety of reasons. James at Connective Chiropractic is an ultimate professional. Showing care and empathy on every consultation.
He explains what is happening with my back and for each physical adjustment he explains what he is doing and why he is doing it. James is a person who shows he deeply cares about his patients and wants to ensure they get the highest level of care.
He advises what stretches and exercises to do after your treatment to keep healthy.
His room is comfortable and I know he is expanding his practice to allow even more comfort and patient experience.
Free parking onsite helps. Just press the button at the barrier and reception will let you through during main office hours. (Barrier is open when not in main office hours).
Easy to find in the heart of Basingstoke I can't recommend James enough. If you need a great chiropractor, James is for you.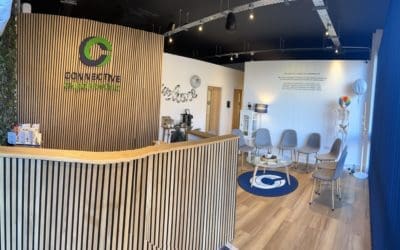 Get directions to our clinic before you start your journey Getting our address or contact details is one thing, knowing what to expect when you get here, or whether you are in the right place, is another. To take the stress out of your journey, we've decided to create...
read more
BASINGSTOKE
Connective Chiropractic Ltd,
55 Kingsclere Road,
Basingstoke.
RG21 6XG

EMPOWERING WELLBEING WITH A CONNECTIVE CHIROPRACTIC MEMBERSHIP
Registered Company (10788728) in England & Wales, Registered Address: 55 Kingsclere Road, Basingstoke, Hampshire. RG21 6XG.

Site content last edited 11 September 2023 (Version 1.4) (Version 1.0 - 1st November 2017). Last update Monday 11 September 2023
Copyright: Connective Chiropractic Ltd. All rights reserved. The Connective Chiropractic name and Connective Chiropractic logo are registered trademarks.