Sign up to your personal wellbeing strategy day and invest in your future
Invest in your personal wellbeing with our personal wellbeing strategy day
I am proud to launch my personal wellbeing strategy day course. It's a whole day designed to help you to focus on your health, wellbeing and lifestyle goals. At the end of our day together, you will have an action plan of where to go, what to do and how to develop yourself in a way that will attract happiness and wellbeing in your life.
Making guarantees 
It may sound like a very bold claim to have your personalised action plan in a day, but I guarantee it. It's what the day course is about. I can guarantee you'll get a clear action plan by the end of the day; it's the very thing I did when I was lost in life after having a life-threatening illness, couldn't see the wood for the trees and needed a bit of self-led strategy and direction. Since then, i've followed this process with others, helped them to determine a fuller strategy for health and wellbeing and have found the model works in each case. I am proud to now offer this as a day course, based on tried and tested methods to help you design the lifestyle of your dreams and create a blueprint for your future that will attract personal wellbeing.
Please read this post to find out more or for information on how to sign up…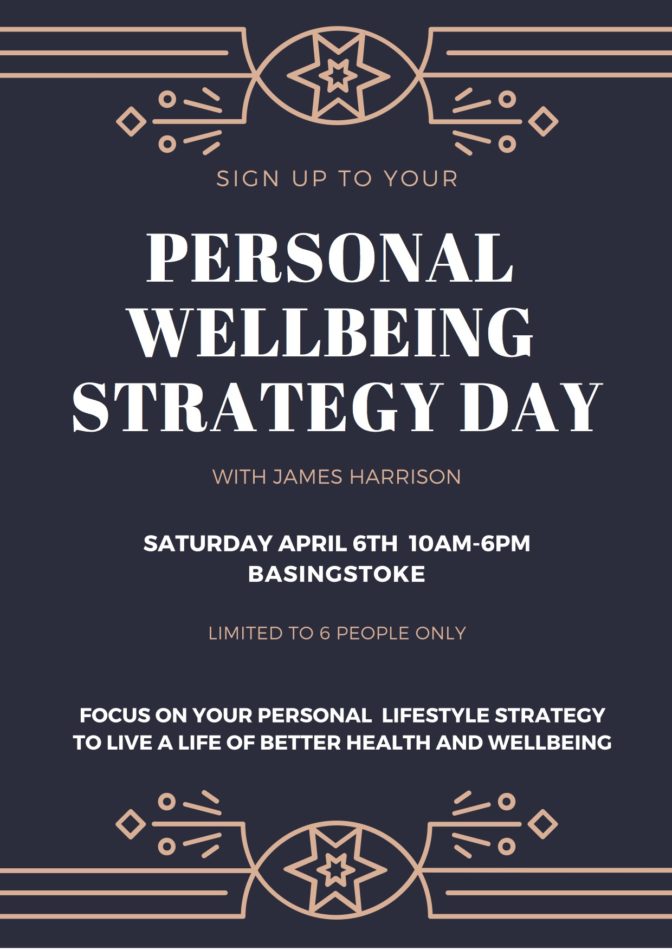 Developing with a personal wellbeing strategy honestly changed my life. Offering the course for others has helped others to transform their lives and it may even change yours.

My story : How I developed the personal wellbeing strategy course
From superman to 4-hours-to-live within minutes…
I was very nearly the youngest barrister ever in the UK. I felt untouchable, intelligent, confident, until one day that changed my life for ever. Whilst travelling to the Inns of Court in London with a group of other would-be barristers where I dramatically screamed and collapsed in a motorway service station. Whilst unconscious, the ambulance crews did everything to save me, but following all their attempts, i'm told they gave me just four hours to live. I was no longer superman, my family cancelled their plans, my parents were bracing themselves to say goodbye. Things couldn't have been any more humbling or scary.
The next morning…
Jump to the next morning and I had awoken. I remember waking up; not recognising who my family were, where I was or even who I was. I remember things that I now know not to be true. Later on, I was diagnosed with viral encephalitis (a brain and spinal cord inflammatory illness, that often leads to severe brain injury or even death; for more information about the illness please see the amazing Encephalitis Society website.) I'm told that a lucky mistake of pumping me with anti-vitals instead of antibiotics saved my life and gave me a lucky escape. Superman I was no longer, but I was grateful for another chance at life; to figure out what it was all about and to ensure that time is better spent on the things that build.
Living the leftover life after a near-death experience…
The hang ups of encephalitis has affected my life ever since.
There were lots of things to manage afterwards and lots of horror stories (This is not the blog post for that, but perhaps it may follow another day). Short term memory issues and personality changes are perhaps the biggest of the symptoms I continue to note and have to be careful with. I used to be able to remember digits, words, names, cases… now I have to really force the information in or leave a trail of secret post it notes or phone messages around. It's better now than it used to be, but it's one reason of many I was proud to head back into education and retrain (following the decision to leave law after recognising the holes in my memory).
One of my proudest days since was knowing that I managed to get a first class masters degree and have since been able to focus in as an authority for personal wellbeing strategy, chiropractic and also in transformational guidance and coaching. My parents congratulations card on my graduation nonchalantly proclaims how I managed to turn my life around from 4 hours to live to a first class masters graduate with awards.
It's about knowing how to rebuild or sustain your life choices in a way that is congruent to who you are and how you want to live, without having to follow anyone else's vision. 
Choosing to live beyond  life's limitations …
Anyone who has ever been through a transformational or chaotic event (no matter how big or small) will know how scary feeling in a rut can be. You literally feel trapped or locked in to whatever is going on. Everything you do seems to link your mind and body back to one thing. As a result, when in the midst of not knowing what makes you tick or feeling trapped in your own body or mind, it can be difficult to see the wood for the trees. It's often time to reflect or seek help. For me, I developed an easy way to identify what it was I wanted out of life.
For the immediate time after encephalitis, I was hell bent on becoming a barrister despite knowing that my brain and body was a ticking time bomb and was consistently letting me down. It was unsustainable. However following one day when I was admitted into hospital twice for being unwell, I decided to put myself through a self-designed process of reflection. The resultant strategy planning and action  led me to choose to leave law, feel confident with my decisions and rebuild my life from the ashes.
Choosing to gain overview…
[Yes, that last paragraph was filled with a lot of big words (and big events) but it is this process that I am offering in my personal wellbeing strategy day. Wherever you are in life, you will gain a guiding light that you crave.]
It's about knowing how to rebuild or sustain your life choices in a way that is congruent to who you are and how you want to live, without having to follow anyone else's vision.
Changing lives and helping people
Developing with a personal wellbeing strategy honestly changed my life. Offering the course for others has helped others to transform their lives and it may even change yours.
What I like most about the course is that it is led by you and who you are. I like this as, in my opinion, any strategy that is led by a directive or an order just isn't sustainable. It has to come from you and be based on what is most important to you at any given time.
Proudly developing a strategy of self-care instead of following others
We are often always too quick to jump on the bandwagon of many fads or peer-pressured suggestions when we are most in need, to later find they are not congruent with who we are or what we want. Gaining personal wellbeing strategy allows you to gain overview, see the wheat from the chaff and to ultimately ensure that each decision you make goes in line with who you are and what you want to achieve.
Getting a personal wellbeing strategy wont resolve the challenges you have on its own. I still had medical issues, still had encephalitis and there were (and are) still hurdles and challenges to face, for example. But, having sufficient personal wellbeing strategy allowed me to make better decisions and to lead myself with more authenticity and conviction. It helps to know your foundations so that even at the most pressing of lows, you know where best to build from or how to direct yourself. The strategy may not have always given me direct answers, but it has helped me to know what I want to achieve, who I might need to approach or talk to or where i'd like to head. It's basically served as a blueprint towards the lifestyle of wellbeing I want to live.
Having sufficient personal wellbeing strategy allowed me to make better decisions and to lead myself with more authenticity and conviction
Signing up to your personal wellbeing strategy day
Spaces are limited to our personal wellbeing strategy days.
The reason for this is because i'm all too aware that there's lots of issues to think about and ways you can get lost whilst coming up with your action plan for the future. I need, as coach, mentor and guide, to have contact time with you.  Most of it has to come from you (and it's certainly not a day for people who don't want to do some work on themselves!) and I find the steering that I bring to the table is perhaps the most important element of all to help you to gain clarity. In all the times i've done the course, as 1:1s or for myself, there's usually something we find that dominates the conversation at the start to later find its not relevant at all. Effective guidance and questioning often saves so much time and head spin, which often can't be done in larger groups.
I'm working on it, but right now 6 is my absolute maximum per course, so if its for you, you'll need to sign up fast to avoid disappointment or join our reserve list so that we can alert you to when our next course is to be held.
Contact us to reserve your space
What you'll get when you sign up to your personal wellbeing strategy day: 
On the course you will:
Develop a personal strategy to guide you towards your lifestyle goals

Create a meaningful and achievable 'action plan'

Gain an overview of who you are and what drives your decision making

Better understand what motivates and demotivates you

Succeed in achieving your future goals faster
What you will receive if you sign up today…
An interactive course focusing on your personal health, wellbeing and lifestyle goals

Purpose made log book for you to keep, so you can easily continue your journey after the event

Exclusive online support group

6 x Weekly live coaching videos to support you further on your journey with James Harrison

Refreshments throughout the day including welcome pastries, snacks, tasty lunch, fresh fruit, and hot and cold drinks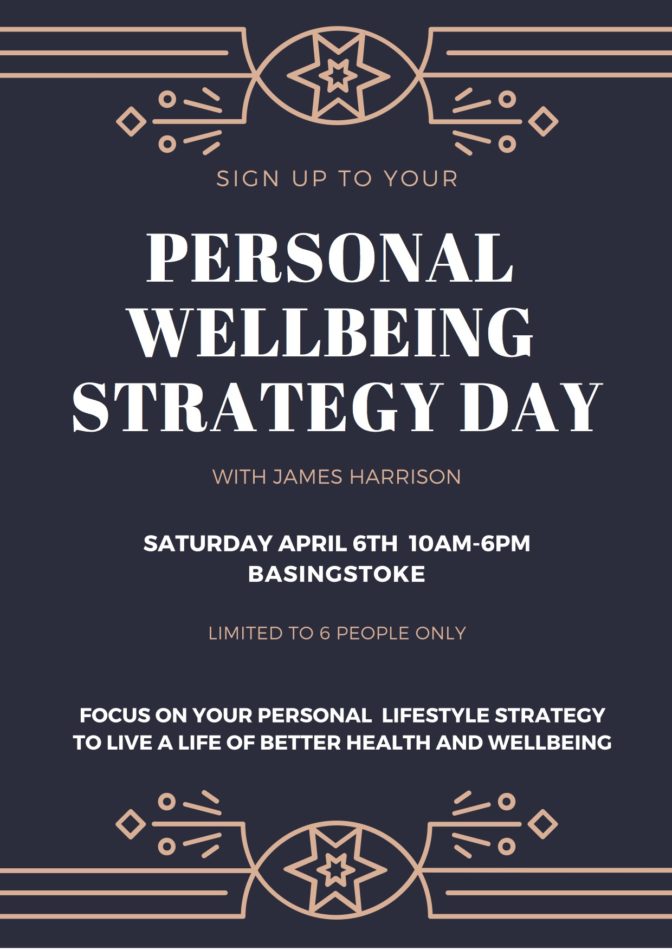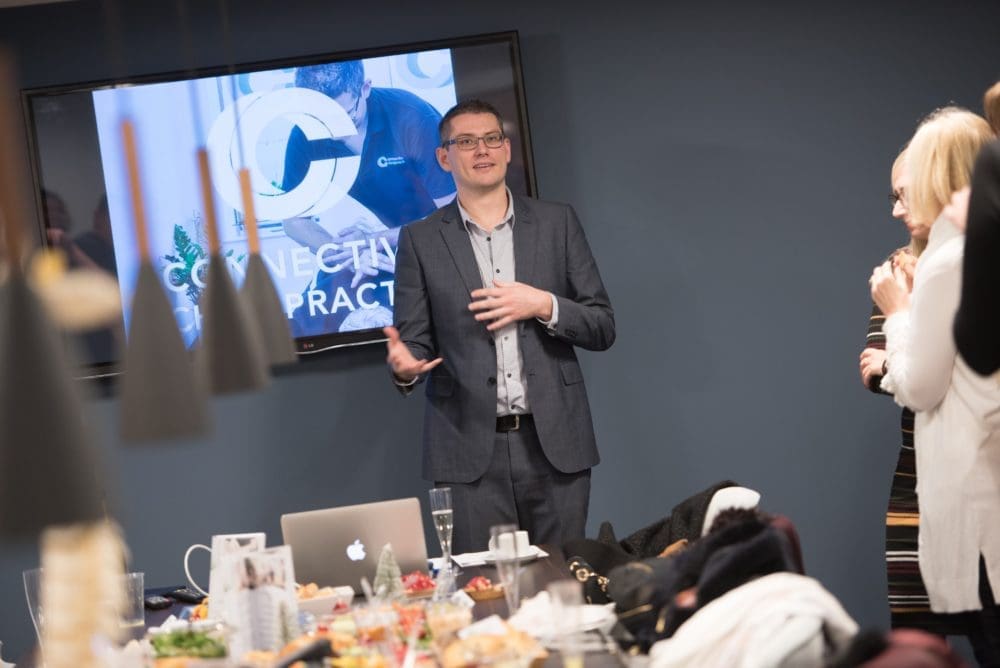 The Investment in yourself



The cost for this course is £495 (RRP) for the whole package, including the day course, log books and after support and coaching. What comes out of this course could be life changing.
Whilst we are aware the course is a steal for what is potentially on offer, I recognise (as i've been there myself) that in times of uncertainty, change or transformation, available cash can be a limiting factor in how fast you can grow or develop. It's for this reason we offer early bird prices and the ability to split payments on application. See below for the latest offers…
The Next Course and special offers…
Our next course is on Saturday April 6th 10am-6pm in Basingstoke, Hampshire, UK.
Early bird price until March 1st – £295 in one instalment or 3 x £100 instalments
Prices will go up from March 1st (RRP £495)
How to register for your personal wellbeing strategy Day with James Harrison



Email me today at james@connectivechiropractic.co.uk to register your interest or fill out the form below and we'll be in touch…
We are expecting the limited number of tickets for this event to sell out so don't delay!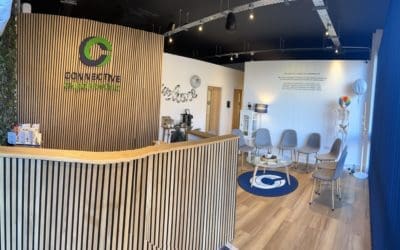 Get directions to our clinic before you start your journey Getting our address or contact details is one thing, knowing what to expect when you get here, or whether you are in the right place, is another. To take the stress out of your journey, we've decided to create...
read more
BASINGSTOKE
Connective Chiropractic Ltd,
55 Kingsclere Road,
Basingstoke.
RG21 6XG

EMPOWERING WELLBEING WITH A CONNECTIVE CHIROPRACTIC MEMBERSHIP
Registered Company (10788728) in England & Wales, Registered Address: 55 Kingsclere Road, Basingstoke, Hampshire. RG21 6XG.

Site content last edited 11 September 2023 (Version 1.4) (Version 1.0 - 1st November 2017). Last update Monday 11 September 2023
Copyright: Connective Chiropractic Ltd. All rights reserved. The Connective Chiropractic name and Connective Chiropractic logo are registered trademarks.