7 natural ways to reduce back pain
Reduce back pain by following these handy natural tips as opposed to resorting first to the pills or the potions. 
We've been asked to give some key tips on how you can reduce your back pain naturally and we are happy to document seven of many ways below. As always, a one size fits all approach rarely works when it comes to health and these tips do not form tailored advice for you. If you are unsure whether you should try any of these, please contact us or another healthcare professional who will guide you further. For tips on how to manage back pain before you come to see us at the clinic, click here. 
Tip 1: Get a good night's rest
Tossing and turning won't help aches, sprains or strains. Ensuring you get a good night's sleep ensures that the body has enough energy to healing in the right way. Reducing stress and tension can assist here, as can adopting good sleep hygiene such as good sleep postures and routines. 
TIP 2: Avoid inflammatory foods
Much discussion of late has been afforded to the effect of inflammation on our body caused by inflammatory foods. The evidence is a bit sketchy here, but certainly it is well documented that you may be able to reduce back pain, or at least the perception of the pain, by changing your nutrition. As always, consult a doctor, nutritionist or other healthcare specialist if you are unsure or need guidance
TIP 3: Get checked by a Chiropractor
Regulated Chiropractors are effective in helping the reduction of back pain. This is well documented and evidenced. Coming in for an initial consultation with us can give you more information about the causes of your pain as well as an action plan towards how to deal with it. 
I have a recurring lower back issue for a variety of reasons. James at CC is an ultimate professional. Showing care and empathy on every consultation. He explains what is happening with my back and for each physical adjustment he explains what he is doing and why he is doing it. James is a person who shows he deeply cares about his patients and wants to ensure they get the highest level of care.
He advises what stretches and exercises to do after your treatment to keep healthy.
Tip 4: Get moving
Reduce back pain through gentle movements and exercises. Evidence increasingly suggests that in most cases movement and exercise is better than living a sedentary life. Don't overdo them until you book in. The goal here is to move not to over-stretch or strain. Select gentle exercises to start with at home rather than going to larger yoga or pilates classes until it is safe to do so.
Tip 5: Reduce the fear
Research increasingly shows that our perception of pain can be altered by our fears or beliefs around it. Take some time out to breathe or meditate through the pain and reduce anxieties around it. Try not to stop activities unless you really need to: stopping yourself up because of your pain will not help you to reduce back pain
Tip 6: Get to grips with weight
Weight loss in itself won't help you to reduce back pain. That said, the effects of weight loss can help you to stay active or make healthier choices. Your body is designed to withstand weight, but we find that those in clinic who have spinal misalignments often complain more about feeling aches and pains due to their weight as opposed to those who do not.
Tip 7: Check your postures
How are you sitting right now? How do you sleep? What's the quality of your bed or chair like? How is your car seat? What about when lifting at work?
Good posture isn't about how straight we are, but rather about how we adapt to our environment and withstand the pressures from our environment. The general rule of thumb for ergonomics is that if you are in a position and your joints do not feel comfortable or naturally positioned then there is a potential improvement to make. Balancing up motions can provide postural relief as opposed to sitting or standing in uncomfortable positions. We do not recommend buying postural devices to assist your posture.
Book your appointment with Connective Chiropractic
Chiropractic is effective with many types of back pain.
Book in for an initial consultation to see whether we can help you today.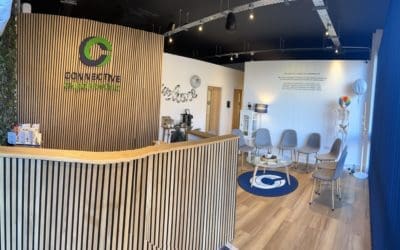 Get directions to our clinic before you start your journey Getting our address or contact details is one thing, knowing what to expect when you get here, or whether you are in the right place, is another. To take the stress out of your journey, we've decided to create...
read more
BASINGSTOKE
Connective Chiropractic Ltd,
55 Kingsclere Road,
Basingstoke.
RG21 6XG

EMPOWERING WELLBEING WITH A CONNECTIVE CHIROPRACTIC MEMBERSHIP
Registered Company (10788728) in England & Wales, Registered Address: 55 Kingsclere Road, Basingstoke, Hampshire. RG21 6XG.

Site content last edited 11 September 2023 (Version 1.4) (Version 1.0 - 1st November 2017). Last update Monday 11 September 2023
Copyright: Connective Chiropractic Ltd. All rights reserved. The Connective Chiropractic name and Connective Chiropractic logo are registered trademarks.