Are you part of the evolution of workplace wellbeing?
Did you know that Connective Chiropractic are empowering workplace wellbeing in Basingstoke? It's more than just getting you out of your aches and pains, but also helping your business to feel better, be better and grow.
Check out our workshops, open-workshops and business package blog pages for more information or to register your interest.
ARE YOU PART OF THE EVOLUTION OF WORKPLACE WELLBEING?
the concept of workplace wellbeing can actually be deemed as a wider economic issue that if not addressed could lead to wasted costs, productivity declines and skills deficits within british business.
There are many definitions about what constitutes workplace wellbeing, but you don't have to look far to realise that it's a growing trend in terms of human resource and business management that the concept is here to stay
Understanding the impact of workplace wellbeing
An ever growing body of evidence suggests that employee engagement and performance might be linked to the wellbeing of both a company's workforce and the individuals that make it up. Research and commentary have traditionally focussed on the management of workplace stress and anxiety in workplaces, but the concept of workplace wellbeing can actually be deemed as a wider economic issue too.
The idea of workplace wellbeing presupposes that our health is biopsychosocial and that there are integrative physical, mental and community elements that inform our healthcare both at home and at work. It is more complex than just what we put in our mouths, what makes us happy or whether we are feeling stressed at work.
DEVELOPING A STRATEGY FOR WORKPLACE WELLBEING
Workplace wellbeing should be a consideration for all businesses. It's a case of starting small and growing fast with a view to nurture your staff so they can shine out and perform at their optimum.
Don't focus on the quick fixes. Plan for the long term.
It's easy to think about quick fixes, such as replacing an office chair or purchasing stress balls. However, its often more prudent to ensure that a culture of wellbeing develops. Everyone in your business should be looking after each other's health and wellbeing interests.
It can be easy for businesses to fall into a trap of only focussing on one or two factors related to workplace wellbeing in a bid to save costs but then completely miss the bigger picture about what is required in their own business. It appears to be more effective in the long term to develop a strategy or culture towards workplace wellbeing rather than to cherry pick any one issue to develop in isolation.
PHYSICAL ASSESSMENTS
THE STATISTICS
Did you know that 35% of all work related ill health in 2016-2017 was caused by musculoskeletal disorders? In Great Britain alone, 8.9 million working days were lost between 2016-2017. On average this cost businesses 17.6 lost working days in each reported case. Even at minimum wage, this is a lot of cost for any business to sustain without it going noticed.
Out of these cases upper limb (44%) and Back issues (36%) are most common, largely due to frequent repetitive, push or pull actions associated common to the world of work. These statistics  sadly don't discriminate based on industry sector or business size: They can happen in any industry and with anyone.
Workplace wellbeing refers not only to the employee feeling better, but also the employer indirectly saving the expense of absenteeism or skill loss when things don't go according to plan.
IMPROVING THROUGH WORKPLACE WELLBEING
Business owners may find, through employee education or tackling workplace musculoskeletal issues head on, that they may be able to affect not only how their employees work, but also how safely they work and their attitudes to being at work.
Many workplace musculoskeletal issues can be avoided through proper education and strategic planning
Many musculoskeletal issues in the workplace are avoidable. The costs to an employer through illness or absenteeism can be high. Workplace wellbeing refers not only to the employee feeling better. It also gives the employer a route of safeguarding from expenses relating to absenteeism or skill loss when things don't go according to plan. An employer must set the culture of wellbeing but its often engagement from employees that will set the pace or momentum
Tailored workplace wellbeing assessments
Simply signing up your workforce to an ergonomic training course, without assessing your business needs or providing a culture of further review or aftercare, may cost a business more money than it's worth. (There's nothing worse than a boss footing the bill for an expensive sit-stand table for the employee not to know how to work it or to keep it in the sitting position all day long, for example!) Connective Chiropractic's integrative, tailored workplace wellbeing workshops, open-workshops and business packages might help.
An employer must set the culture of wellbeing but its often engagement from employees that will set the pace or momentum.
Find out more about workplace musculoskeletal issues

The impact of workplace wellbeing on physical complaints
A big issue we see at Connective Chiropractic is the mental impact of physical complaints.
That office chair or funny workstation may create back ache or a headache in one worker. This is something we can address and identify pretty quickly. However, the effect of not addressing the issue speedily can additionally effect others. A culture of moping, stress, depression or whining is hard to change if it has been repetitively ignored. Opening the doorway through bonuses, perks and engaging activities whilst at work may help to transform your businesses attitude. It's a question then about what works best for your workforce. It's also about working out what can be done both cheaply and effectively.
Developing an action plan with your employees
We are not only able to help your business through providing Chiropractic care in helping your workforce to get rid of their aches and pains. We are also able to engage with your workforce to figure out a workplace wellbeing strategic action plan. Boosting morale, free from pain from restriction, is a huge thing for any business.
PSYCHOLOGICAL ASSESSMENTS
An employers perspective may not meet the wellbeing needs of an employee
Whilst working with the mindset of a business is central to developing a strategic culture of wellbeing, even the most forthcoming of business owners meet an initial challenge. There can often be a disconnect between what employers and employees see as relevant in terms of assisting their workplace wellbeing and often a balance needs to be met in larger organisations to create both acceptance and benefit.
Indeed a balance often has to be met between short term boosts (as created by salary rises or bonuses) but also about more long term perks such as the provision of retirement planning, flexible benefits and perks that underpin much more than just what happens in the world of work.
Education is key. Wellbeing choices outside of work may affect workplace wellbeing.
The health and wellbeing of your workforce outside of the world of work can undoubtedly affect outputs within the work environment, so for real output measures it's key for employers to know what represents best investments for their workforce in terms of engagement and acceptability. Employees are often 'luke-warm' about the choices they are often offered, so its often useful to increase engagement and development from the employees themselves as opposed to creating a one-size fits all solution that may not actually be as good an investment as you at first might think.
Connective Chiropractic's bespoke workshops allow time for your employees to come up with a practical action plan and will help you to understand their needs and challenges better.
Sign up to our newsletter

Mental Health: A key component of workplace wellbeing
Mental health is a huge part of workplace wellbeing, but often becomes an elephant in the room for most workplaces. Statistics for Great Britain show that 12.5 million working days were lost in 2016-2017 alone from workplace related stress, anxiety or depression (on average costing an employer 24 working days in each case).
In a world where increasing pressures are placed on employees and employers alike to meet targets and deadlines it is often very important to come up with strategies to support the workplace environment. An air of acceptance and support is often significantly more constructive for a business than one that pushes issues behind closed doors or prevents open discussion of complex issues or the wider effect that they may have on health or wellbeing.
SOCIAL ASSESSMENTS
The community and environment focus in biopsychosocial workplace wellbeing
Some suggest that measuring healthcare and workplace wellbeing outcomes may be not be the most effective without reference to other variables including those outside of the business environment. Return on Investment for perks and schemes for wellbeing on its own may not be the most clear cut therefore. What seems most key is that it is definitely part of a broader strategic strategy to get both businesses and the nation working more towards their optimum. At the very least it might help a business to attract and retain talent and provide additional benefits of working to a particular company instead of another
Focusing on the wider healthcare choices of employees
Behavioural or social economic factors can play a huge part into an employee's own wellbeing. They can also affect an employee's values or philosophy of healthcare whether inside or outside of the workplace.
There is a need for clear delineations between what an employee and an employer ought to address. An employer that provides sufficient education is undoubtedly going to come across as more involved in trying to focus on the wider healthcare and lifestyle needs of the individual employee than one who is not.
HOW CONNECTIVE CHIROPRACTIC CAN HELP
We can't guarantee 100% engagement in your workforce. But, we are able to provide tailored workshops and staff retreats to help your business meet its wellbeing goals. There's debate in general on the quantification of return of investment on wellbeing schemes, or indeed the long term effect on absenteeism or morale. However, we will work with you to reduce costs and improve engagement. We will also tailor our service to meet your business needs. We are happy to provide stand alone courses and workshops that can meet short term or more general goals. Tailored packages will help guide your business (no matter how small or large) into a strategic culture of wellbeing. We're even happy to discuss or negotiate payment options to make it more flexible. (After all finance is often a big concern for some in terms of stress.) We are, of course, also able to provide Chiropractic care and consultations for your workforce at preferential rates. No matter what you need, we've got you covered. It's time to get your business out of aches, pains and restrictions.
Find out more about our workplace wellbeing workshops

Enquire about our workplace wellbeing packages here
Enquire about our workplace wellbeing packages here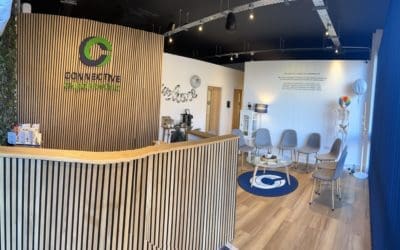 Get directions to our clinic before you start your journey Getting our address or contact details is one thing, knowing what to expect when you get here, or whether you are in the right place, is another. To take the stress out of your journey, we've decided to create...
BASINGSTOKE
Connective Chiropractic Ltd,
55 Kingsclere Road,
Basingstoke.
RG21 6XG

EMPOWERING WELLBEING WITH A CONNECTIVE CHIROPRACTIC MEMBERSHIP
Registered Company (10788728) in England & Wales, Registered Address: 55 Kingsclere Road, Basingstoke, Hampshire. RG21 6XG.

Site content last edited 11 September 2023 (Version 1.4) (Version 1.0 - 1st November 2017). Last update Monday 11 September 2023
Copyright: Connective Chiropractic Ltd. All rights reserved. The Connective Chiropractic name and Connective Chiropractic logo are registered trademarks.