Connective Chiropractic remove COVID as an excuse to not having Chiropractic care
Self care can be hard enough when you live a busy lifestyle. Now we have the global pandemic to think about…
Self care shouldn't stop because of COVID
For many of us, our self care routines have been shelved in replace of make-shift working from home routines. Out has gone the gym passes, our spa gift experiences or luxurious lunch with our friends and colleagues. Instead we now have the at home schooling space, family dinner planner and maybe even the at-home cleansing and sanitisation station!
As our homes (temporarily) become less about comfort and more about function and safety, it's easy to get trapped into the view that what you're doing currently is all for the greater good. And, whilst you'd be right in that we all have a part to play in ensuring our community's risk to COVID is as low as possible, this does not mean we have to stop looking after ourselves or doing the things that keep us physically or mentally healthy. In fact we'd argue looking after your health is even more important at this present time than ever before: Focussing on preventative care and your wider health and healing may indeed help you to prevent aches, pains and illnesses but also stop you needing to use NHS and A&E services quite so soon.
How Chiropractors can help the national health care effort
Enter many allied healthcare practitioners, such as our registered Chiropractor at Connective Chiropractic. We are able to stay open under current guidelines. We work to help you to get out of any aches and pains in our COVID-safe environment, through our one-to-one treatment sessions and also through educating people about self care virtually and online. Our aim is to ensure you feel fit and healthy so you don't have to contact your GP, A&E or other healthcare services unless you really need them. The hope is that we can help you to keep going and do what you do best to keep your community working as best as it can in these strained times. 
Our goal is to play our part by reducing the burden on our health care colleagues, whilst helping people and changing lives
More now than ever before, if you have back pain, neck pain, or are suffering from headaches, migraines or pains in your muscles or joints, we'd suggest giving Chiropractic care a try. We can take the time with you to find out what is going on and offer specialised help and attention, tailored to your needs. We may be able to help you without even needing to go to see your busy medical doctor. You can book in easily to our Basingstoke based Chiropractic clinic via our website, at any time in the day. Usually we will be able to get to see you for your onboarding session within a few days.
Government and regulator guidance
Chiropractors are able to stay open as part of the national health care effort. Chiropractors are specifically mentioned both in government guidance and in coronavirus legislation. But, in doing so Chiropractors must do all they can to reduce the risks of both transmission and infection. New and returning patients alike are allowed to travel to the clinic under lockdown guidances too if they have a confirmed appointment with us.
What Connective Chiropractic are doing to make things safer…
Controlling the number of people in the clinic
Unlike your local supermarket or school playground, we can control the number of people coming in and out of our clinic and can identify what creates a risk for our team and also those coming to see us.
Wearing Personal Protective Equipment
All our team is wearing full PPE, including gloves, aprons, masks and eye protection, as required. We are wearing PPE both when we are seeing patients and when we are not seeing patients to reduce risks of contact time at any time. We're asking all patients to wear appropriate face coverings and to sanitise or clean their hands on entry. Where people have exemptions, we will organise our clinic accordingly to make it safer for them.
Cleaning and sanitisation
Unlike your local friendly supermarket or shop, we can and are cleaning all the items in our clinic rooms. We even have a chart that we fill out at each clinic shift to prove to ourselves and each other that it's been done! This means that it's hopefully less likely that if something is brought in it'll be around for long. We are using a decent mix of antibacterial and antiviral cleaning fluids, cleaning bombs (that blitz everything, including the air!) We're also making a concerted effort to ensure that our rooms are aired throughout the day. It's not just for your protection, but for ours too, so we are taking it very seriously.
Shift management
No matter the cleaning, we give the rooms opportunity to air regularly throughout our clinic shifts. We've also taken out availability online so we are able to schedule those who are more vulnerable more privately.
Triage
We are asking patients about their interaction with others and whether they have COVID symptoms before and during every clinical interaction. This helps us to triage whether it is suitable to see someone face to face. It also helps us to establish whether additional measures are required for us to make it safe, or whether online or telephone consultations are more wise. We are refusing to see people who do not complete this information so we can be sure we are doing all we can to protect our patients and community.
Temperature check
A high temperature is one of the key symptoms of COVID so we are checking all the team at every shift as well as each patient on arrival to the clinic.
Contactless where possible
We have used technology to remove the need for contact-based processes where possible. This includes the use of tablets to sign forms rather than using pens and also the ability to pay online by Stripe payment and direct debit instead of only by card or cash. We clean all our card machines and even shrink-wrap them so we can be sure to get into every nook and cranny! We're also using text and email reminders and e-receipts rather than giving out paper cards and receipts.
Hand sanitiser galore!
We have it everywhere and you are free to use it whenever you like. Most people will pass at least 5 bottles before even reaching the clinic and our clinic rooms too have several bottles on the go at any one time. [We also have hand cream too for those more sensitive hands. There really is no excuse!]
Rescheduling where there is doubt
We'd rather be over cautious than create a safety issue for our community. If there is ever a circumstance of doubt, we are asking to reschedule our appointments so we can be sure things are safe and above board. We've suspended our cancellation policy and charges too so that people can make decisions that are most appropriate towards safety (and doing the right thing) as opposed to one based on finances.
Connective Chiropractic remove COVID as an excuse to not having Chiropractic care
We've done all the risk assessing and taken pain-staking attention to detail in our processes so that you don't need to worry. We'd like to think our processes make it cleaner than most other places, including your home. We are constantly refreshing what we are doing to ensure it remains that way for as long as it is practically possible. Our advice is to be cautious and not complacent: Our processes are such that we can say that our clinic is as COVID-safe as it can be and you shouldn't need to worry. It's time to focus on you again.
Get back to focussing on your self care
We get that it's a strange time and it's easy to put your self-care interests to the bottom of the list. But, our question to you is this. What is worse? Coming in to get your ache or pain sorted now? Or, waiting until all the lockdowns are over and having to repair also what has happened since?
Just because of the pandemic, your GP's being full or a whole host of other issues… it doesn't mean you can not come to see us. There has never been a better time to get on top of your aches and pains, ready for when the world wakes up again. What is holding you back?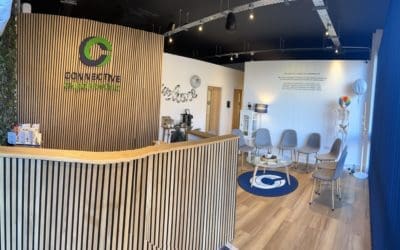 Get directions to our clinic before you start your journey Getting our address or contact details is one thing, knowing what to expect when you get here, or whether you are in the right place, is another. To take the stress out of your journey, we've decided to create...
read more
BASINGSTOKE
Connective Chiropractic Ltd,
55 Kingsclere Road,
Basingstoke.
RG21 6XG

EMPOWERING WELLBEING WITH A CONNECTIVE CHIROPRACTIC MEMBERSHIP
Registered Company (10788728) in England & Wales, Registered Address: 55 Kingsclere Road, Basingstoke, Hampshire. RG21 6XG.

Site content last edited 11 September 2023 (Version 1.4) (Version 1.0 - 1st November 2017). Last update Monday 11 September 2023
Copyright: Connective Chiropractic Ltd. All rights reserved. The Connective Chiropractic name and Connective Chiropractic logo are registered trademarks.